Mandatory Vaccinations On Productions An Option Under Return-To-Work Protocols – Update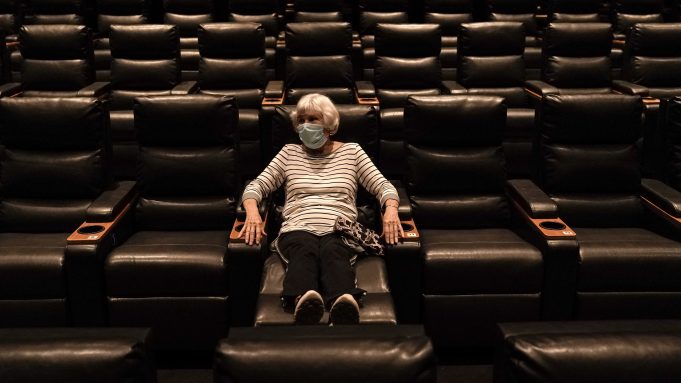 2ND UPDATE with more details and reaction, 9:17 PM:: Mandatory Covid-19 vaccinations on film and TV productions now will be allowed, on a restricted basis, under a new agreement reached Monday between Hollywood's unions and the major companies. The new protocols, they said in a joint statement, will give producers "the option to implement mandatory vaccination policies for casts and crew in Zone A on a production-by-production basis." Zone A, where unmasked actors work, is the most restrictive of the safe work zones on sets.
Read the summary of changes, which the DGA sent in a message to its members, below.
Last month, SAG-AFTRA adopted strict new guidelines for employers who may make Covid-19 vaccinations mandatory as a condition of employment.
SAG-AFTRA presidential candidate Fran Drescher said tonight that she supports the new protocols. "While vaccinations are a crucial component towards scaling back the Covid-19 virus, they are not 100% effective in preventing us from catching Covid or spreading it," she said in a statement. "This is why hospital protocols continue to require masks, and for all patients to be tested for Covid, regardless of whether the patient was vaccinated prior to admittance.
"We should all share the goal of eliminating Covid in this country. Until we do, following the additional SAG-AFTRA safety protocols – such as mask wearing, testing and physical distancing – is essential, especially since mask wearing continues to be either imposed or encouraged in many areas while some are experiencing outbreaks and increased cases."
SAG-AFTRA's guidelines for employers who require vaccinations, which were adopted on June 24, stipulate that:
Production must announce such policies as soon as possible, preferably in initial breakdowns or earliest casting discussions.

Such policies must apply equally to all cast and crew working in the relevant zone(s) or work location(s).

Production must have procedures in place to engage in interactive process with those requesting ADA (Americans with Disability Act) or religious accommodations, and must include the procedure for initiating a request in notices of the vaccination policy.

Such policies can only be enforced when vaccines have been readily available to performers for a sufficient period of time to confer immunity in time for start of work.

If being vaccinated as a condition of employment for the production, any vaccination costs are absorbed by employer and vaccination time is work time.

Vaccination records are maintained securely by employers and available only to those with need to know.
Anthony Rapp, Drescher's running mate on the union's Unite for Strength ticket, said: "I am deeply grateful to my union, SAG-AFTRA, for working in collaboration with the DGA, IATSE, and the Teamsters to keep all cast and crew safe during this pandemic. These updated safety protocols reflect the latest and best findings of epidemiologists and current science, and will serve our members and our industry as we continue our return to work."
Additional modifications to the protocols include testing frequency for certain areas in the United States and Canada where Covid-19 incidence is, and remains, very low, as well as changes to outdoor masking requirements and updated mealtime protocols.
The agreement, which will remain in effect through Sept. 30, was originally reached last September between management's Alliance of Motion Picture & Television Producers and the DGA, SAG-AFTRA, IATSE, the Teamsters and the Basic Crafts. In the meantime, they say, they will "continue closely monitoring Covid-19 developments and will consider further modifications at that time."
The protocols were established in September and had originally been set to expire on April 30, but were extended until June 30, and then extended again indefinitely on June 30 to give the parties the "necessary time" to reach a new agreement. IATSE even postponed the resumption of its separate negotiations with the AMPTP for a new film and TV contract until next month in order to focus on the return-to-work protocols.
The DGA summarized the agreement Tuesday morning.
With respect to vaccinations, the DGA says that "producers must establish a way of clearly and visibly identifying an employee's entitlement to work under the protocols for fully vaccinated individuals. Proof of vaccination may be established by 1) a digital vaccination card, a government sanctioned passport system (e.g. New York Excelsior Pass), a system maintained by the vaccination provider, or a system that verifies an individual's status against government records; or 2) production of a physical vaccination card.
"Producers must keep such documentation secure and available only to those with a need to know. Employees who do not provide verification of their vaccination status will be treated as not fully vaccinated."
The summary also notes that "on a production-by-production basis, a Producer may implement a policy providing that Zone A employees will be fully vaccinated against Covid-10 as a condition of employment.
"To provide currently vaccinated Zone A employees with sufficient time to get vaccinated, the Agreement gives employees one week to schedule a vaccination appointment and receive their first vaccination shot, and six weeks from that date to get their second shot (if necessary) and complete the required waiting period. Currently unvaccinated Zone A employees who schedule their vaccination appointment and receive their first vaccination within this time period will remain eligible for employment on productions that institute a mandatory vaccination policy while they complete the process to become fully vaccinated. Those who do not do so will be ineligible for employment until they become fully vaccinated."
With regard to testing and PPE, the DGA's summary of the new agreement notes:
"For areas of surging Covid infections in the United States and Canada and all areas outside the United States and Canada, we have retained the existing testing requirements, although we did expand the types of tests that are permitted in certain circumstances.
"The Agreement does relax mask requirements for fully vaccinated employees, allowing them to take their masks off when working outdoors. Employees who are not fully vaccinated must wear face masks at all times (except when eating, drinking, or when their job duties prevent it).
"In addition, we further relaxed the testing and PPE requirements for fully vaccinated employees when working in areas in the United States and Canada that have lower Covid-19 transmission and new case rates. Specifically, in such areas, fully vaccinated employees are not required to wear masks indoors provided certain air filtration standards are met. Fully vaccinated employees, while still undergoing periodic testing, will also be subjected to Covid-19 testing at a reduced frequency. Those who are not fully vaccinated will continue to wear masks and maintain the same frequency of periodic testing as the prior Agreement.
"Productions in a metropolitan area (or applicable county if there is no applicable metropolitan area) must adhere to the standard protocols if for seven consecutive days: 1) its seven-day average transmission rate is equal to or greater than 1.1, and 2) the number of daily new cases per 100,000 is equal to or greater than 10. Productions in areas with lower transmission rates and/or infection rates may apply the more relaxed standards; provided, however, if the area records a transmission rate and daily new case rate higher than those listed above for seven consecutive days, the standard protocols will be reinstated."
The new agreement also created "some increased flexibility around ground transportation," the DGA summary notes. "Under the standard protocols, vaccinated and unvaccinated employees will now travel in separate vans. Vans for vaccinated employees may operate at full capacity. Vans for unvaccinated employees may operate at 1) 75% capacity for trips between set and crew parking, lunch, and base camp, 2) 50% capacity for all other trips. In low infection areas, the prior limits on occupancy have been lifted. In both situations, all employees must be masked. If anyone is unmasked, physical distancing requirements apply."
With respect to meals, "Individually packaged or wrapped portions are no longer required. However, self-serve 'buffet style' food service (e.g., salad bars, trays of food, or any food service that requires employees to share utensils), will not be permitted for employees who are not fully vaccinated, and employees who are not fully vaccinated must continue to maintain physical distance from all employees during the entirety of the meal period."
The DGA told its members that "While we had hoped to further reduce many of the protocols, the growing infection rates simply did not allow us to do so at this time. As we have from the start, we continued to rely on the science with the goal of allowing production to continue while reducing the risk of Covid-19 transmission on set."
Source: deadline.com