Pista ng Pelikulang Pilipino 6 to Premiere Youth, Regional Shorts Competition Films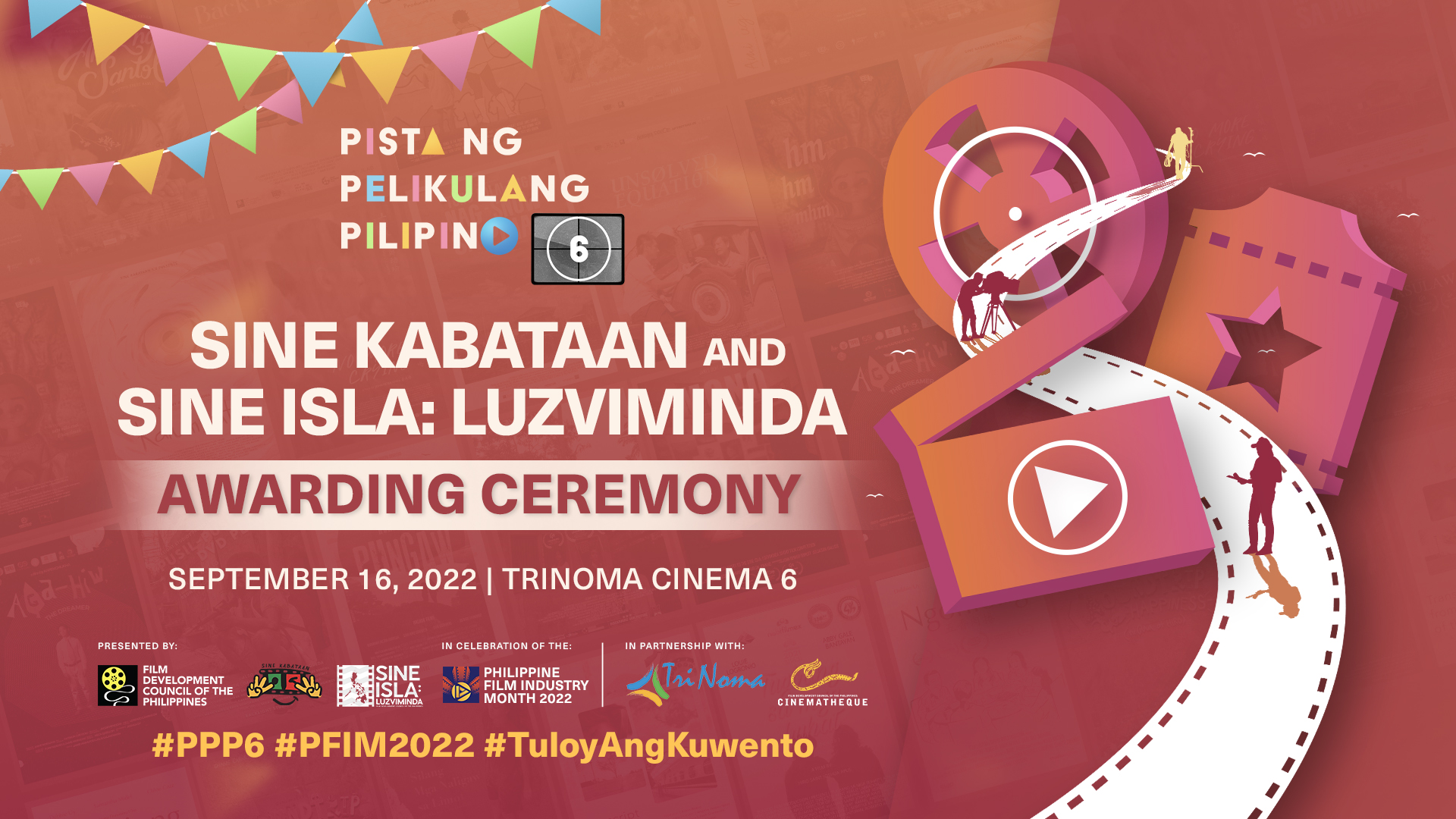 MANILA, PHILIPPINES, SEPTEMBER 15, 2022 — The Film Development Council of the Philippines' (FDCP) annual flagship film festival, Pista ng Pelikulang Pilipino (PPP), will offer fresh narratives from the youth and the regions featuring free screenings of the finalists from the Sine Kabataan Short Film Lab and Festival and Sine Isla: LuzViMinda Short Film Competition on September 16 to 18 2022 at TriNoma Cinema in Quezon City, and from September 16 to 24 in Cinematheque Centres nationwide. PPP will hold the premiere and awards night on September 16 at Cinema 6 of TriNoma Cinema. 
Now on its sixth edition, PPP will showcase twenty (20) short films—ten (10) from Sine Kabataan, a platform for young aspiring filmmakers to showcase their talents, and ten (10) from Sine Isla, a nationwide short film competition that gives recognition to regional filmmakers. 
On September 16, the twenty short films will have their premiere at 1:00 PM, followed by the Awards Night at 6:00 PM. The night will be capped by the special screening of Sundance Special Jury Prize winner, Leonor Will Never Die by Martika Escobar. PPP: Sine Kabataan and Sine Isla will continue to hold free screenings at Cinema 6 of TriNoma Cinema from September 17 to 18 plus talkback sessions with the filmmakers and a special screening of the 2019 Cinemalaya Best Film John Denver Trending by Arden Rod Condez on the 18th. 
The fifth edition of Sine Kabataan, a program that provides a platform for the youth to develop their creativity while touching on relevant societal issues, chose ten (10) projects as finalists that have undergone intensive film labs and were awarded with production grants. The selection committee for Sine Isla: LuzViMinda chose ten (10) short films from filmmakers in the regions, in line with the goal of a more inclusive Philippine Cinema. 
The PPP: Sine Kabataan and Sine Isla screenings from September 16 to 18 at Trinoma Cinema are open to the public. To join the premiere and awards night on September 16, register through this link: https://bit.ly/PPP6Sept16. 
The PPP Classics section will also be screened together with Sine Kabataan and Sine Isla short films starting September 17 to 24 in all Cinematheques Centres (Manila, Iloilo, Davao, Negros and Nabunturan). 
The PPP 6: Sine Kabataan and Sine Isla: LuzViMinda is part of the celebration of the Philippine Film Industry Month this September. 
Below is the lineup of short films for PPP 6: Sine Kabataan and Sine Isla: 
Sine Kabataan 
Ami ug Migo

by Karina Jabido

Anak ng Santo

l by Karen Israel

Back Home

by Anna Katrina Velario

Boy Kilat

by Faith Anne Aragon

Friends and Rainy Days

by Raiza Masculino

Hm Hm Mhm

by Kim Timan and Sam Villa-Real

Kalumbata

by Ryan C. Cuatrona

No More Crying 毋通閣吼咯

by John Peter C. Chua

Tong Adlaw Nga Nag-Snow sa Pinas

by Joshua Caesar Medroso

Unsolved Equation

by Dexter Paul De Jesus
Sine Isla: LuzViMinda
Set A:
Huni Kang Pungaw

by Edgar Joseph Derecho

Ang Pusil-Pusil ug ang DVD Player

by Redh Honoridez

Silang mga Naligaw

sa Limot by Vahn Pascual

Kasulaw

by JM Hermoso

Roundtrip to Happiness

by Claudia Fernando
Set B:
Tugbang sa mga Buhat (As to deeds)

by Hiro Saint Joshua Apus

Aga-Hiw, The Dreamer

by Jaime Morados

Mono

by Rosalie Escala-Sharif

Ngohiong

by Hanz Florentino

Transcript from Phone of the Wind

by Jazz Sol