Pelikulaya International LGBTQIA+ Film Fest Spotlights Queer Filipino Films with Spectra Section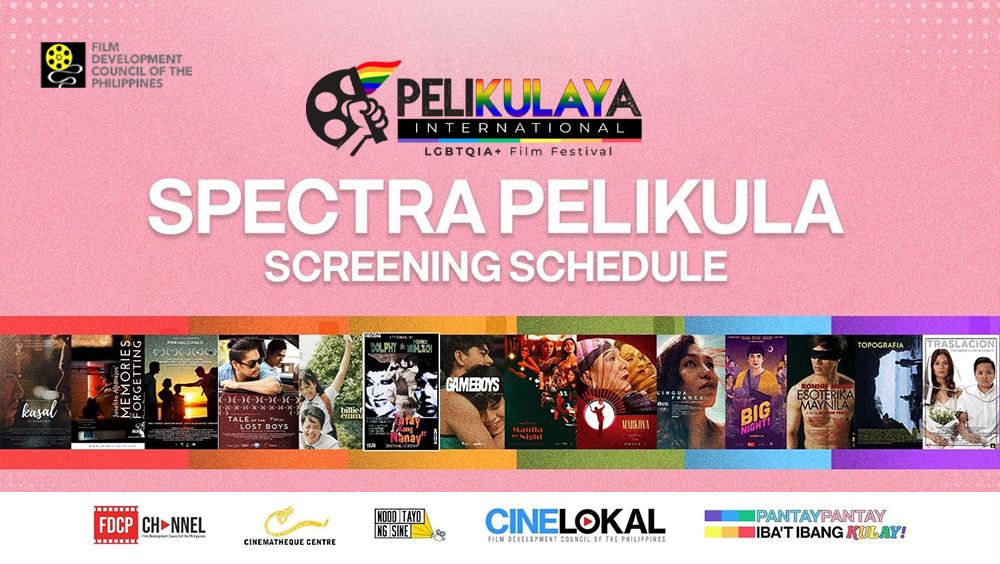 As part of the Film Development Council of the Philippines' (FDCP) Pelikulaya: LGBTQIA+ International Film Festival, the Spectra Pelikula section showcases fourteen (14) award-winning Filipino films that explores and touches on issues relevant to the LGBTQIA+ community in different venues and platforms until June 25, 2022.
Spectra Pelikula section ranges from classic films from respected filmmakers, to the new generation of Filipino filmmakers set to make their mark in the industry. These full-length feature films cater to different stories of Filipino queer that aims to engage and provoke the audience as part of the Agency's advocacy in gender equality. 
There are ongoing onsite screenings at FDCP's Cinematheque Centres in Manila, Negros, Iloilo, Nabunturan, and Davao. The Pelikulaya LGBTQIA+ Film Festival also partnered with Cinema '76 Anonas and Gateway Cineplex in Quezon City as screening and events venues. 
Pelikulaya has also opened its nline access to seven (7) Filipino films that will be available for subscription until the end of the festival on June 26. The following films will be available through the FDCP Channel, the Agency's streaming platform:
Ang Tatay Kong Nanay

by Lino Brocka  (Php 99/mo or Php499/yr)

Traslacion

by Will Fredo ((Php 99/mo or Php499/yr)

Memories of Forgetting

by Joselito Altarejos (Php 99/mo or Php499/yr)

Kasal

by Joselito Altarejos  (Php 99/mo or Php499/yr)

Tale of the Lost Boys

by Joselito Altarejos (Php 99/mo or Php499/yr)

Pink Halo-Halo

by Joselito Altarejos (Php 99/mo or Php499/yr)

Billie and Emma

by Samantha Lee (Rental, Php99/7 days)
On June 24, as part of the celebration of Manila Day, free screenings of films that capture the lifestyle of the city will be open to the public at Cinematheque Centre Manila. This will feature two classic films, Esoterika: Maynila by Elwood Perez at 1:00 PM and Manila by Night by Ishmael Bernal at 4:00 PM.
"Among the lineup of films in Pelikulaya, Spectra Pelikula stands out as the section that features our stories, Flipino narratives that speak our truth. These are films that are part of the movement for the LGBTQI+ community and this is our way to share them with everyone. We hope our audience sees the value of these worthwhile films made by Filipino filmmakers and especially curated for the Filipinos," FDCP Chairperson and CEO Liza Diño shares.
For the past weeks since the opening of Pelikulaya 2022, some remarkable events have transpired under the Spectra Pelikula section. 
A film that made waves in the global queer cinema, Isabel Sandoval's Lingua Franca was featured as the opening film of the festival last June 10, 2022. The film had screenings at all regional Cinematheque Centres across the country and at the partner venue of the festival, Cinema '76 Anonas.
A special screening of the digitally restored and remastered, Markova: Comfort Gay by Gil Portes starring Dolphy took place at the Metropolitan Theater last June 19. While Jun Robles Lana's Big Night! and Ivan Andrew Payawal's Gameboys The Movie had a back-to-back weekend gala night and talkback sessions at Cinematheque Centre Manila last June 18 and 19. 
From respected Mindanaoan filmmaker Teng Mangansakan, Topografia held a gala night at Cinematheque Centre Davao attended by students and film enthusiasts. Mangansakan also conducted a talkback session following the World Premiere of his film last June 17.
Together, these four films including Traslacion by Will Fredo, are still holding screenings across the country with the schedule provided below:
Topografia by Gutierrez Mangansakan II
June 22 | Regional Cinematheque Centres | Wed | 6:30 PM 
Gameboys The Movie by Ivan Andrew Payawal
June 23 | Cinematheque Centre Manila | Thu | 6:30 PM 

June 25 | Gateway Cinema 1 | Sat | 7:30PM
Esoterika: Maynila by Elwood Perez 
June 24 | Cinematheque Centre Manila | Fri| 1:00PM
Manila By Night by Ishmael Bernal 
June 24 | Cinematheque Centre Manila | Fri | 4:00PM
Traslacion by Will Fredo
June 25 | Gateway Cinema 1 | Sat | 1:30PM 
For other PeliKULAYa 2022 screenings and special events, here are the links to check: www.facebook.com/fdcp.pelikulaya, www.twitter.com/pelikulayafest, and www.instagram.com/pelikulayafest.