Oscars-nominated Film 'The Worst Person in the World' to Screen in FDCP's Cinematheque Centres for Cine Filipina 2022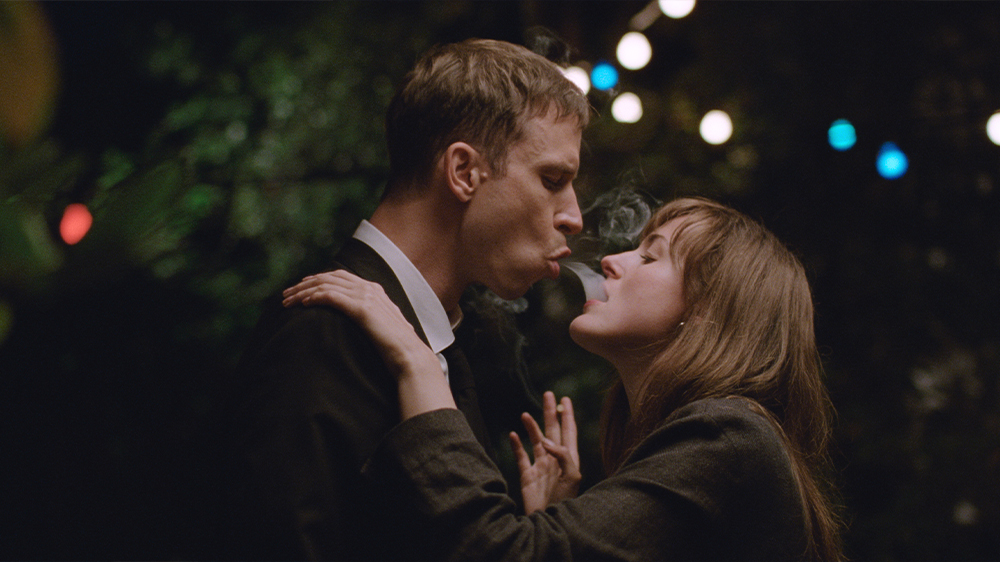 MANILA, PHILIPPINES, MARCH 18, 2022 — Following its triumph in Cannes Film Festival bagging the Best Actress Award for Renate Reinsve's performance in 2021, now nominated for two Oscars, internationally-acclaimed Norwegian film The Worst Person in the World will have limited onsite screenings at Film Development Council of the Philippines' (FDCP) Cinematheque Centres in celebration of Women's Month through the Cine Filipina: Women's Film Festival.  
Co-written and directed by Joachim Trier, it has over 19 awards and 85 nominations in various international award-giving bodies, including the British Academy of Film and Television Arts (BAFTAs) and the 2022 Oscars for Best Original Screenplay and Best International Feature Film. The film will be vying for the Oscars' Best International Feature award alongside award-winning Japanese film Drive My Car by Ryusuke Hamaguchi.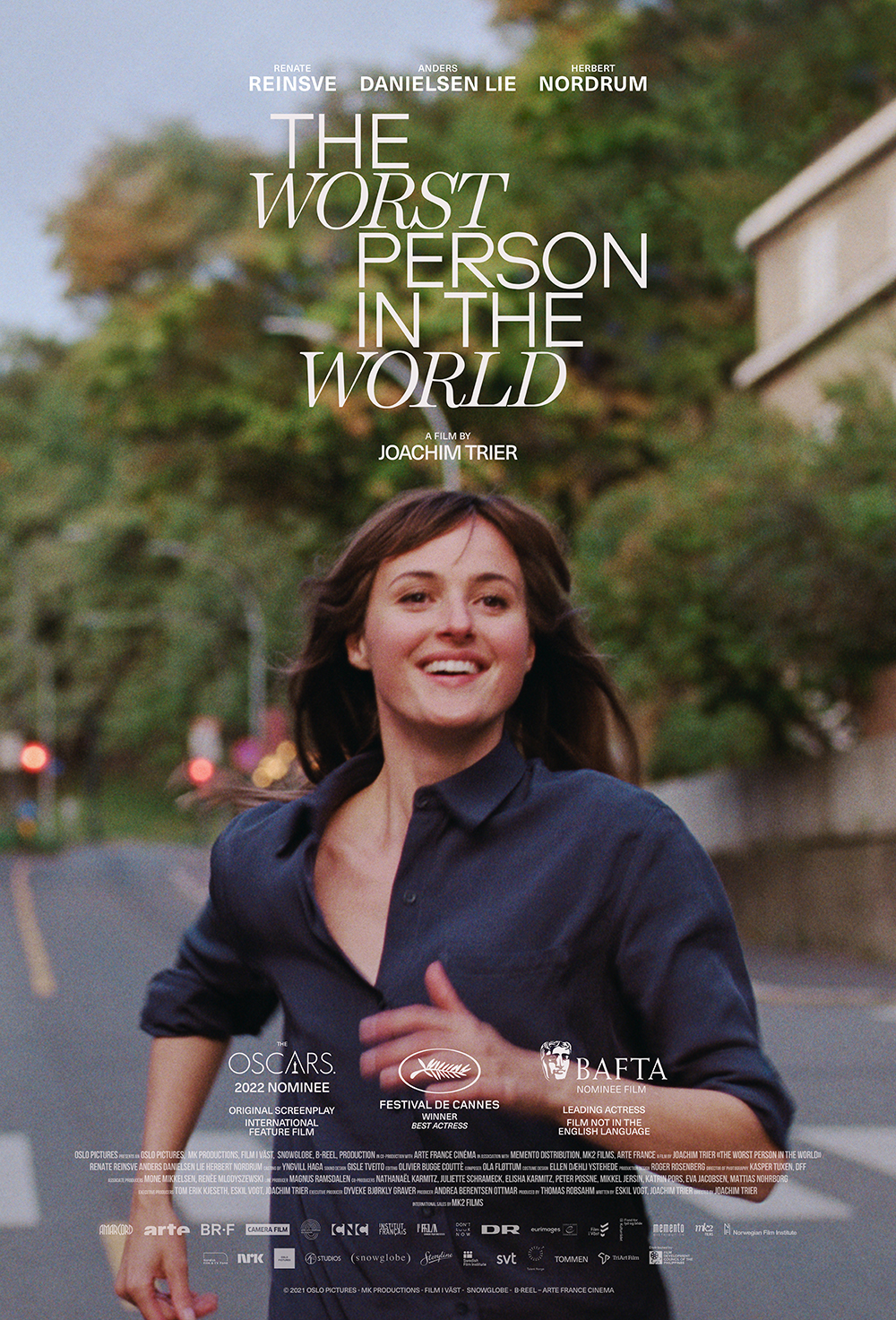 The only international film in the 2022 Cine Filipina lineup, the romantic-comedy-drama film tells the story of Julie (Reinsve), a woman almost in her 30's, in a story-book like manner with 12 chapters, on how she traverses life through the choices she makes for her career and romantic relationships, while also giving a glimpse at modern-day womanhood. 
As part of Cine Filipina's "Women In World Cinema," The Worst Person in the World will have limited on-site screenings at the Cinematheque Centres in Manila, Iloilo, Negros, Davao, and Nabunturan on March 19, 26, and 27. For only PHP 200, audiences can catch the first screening of the film plus a panel discussion preceding the film screening this coming Saturday, March 19, 4 p.m. at the Cinematheque Centre Manila.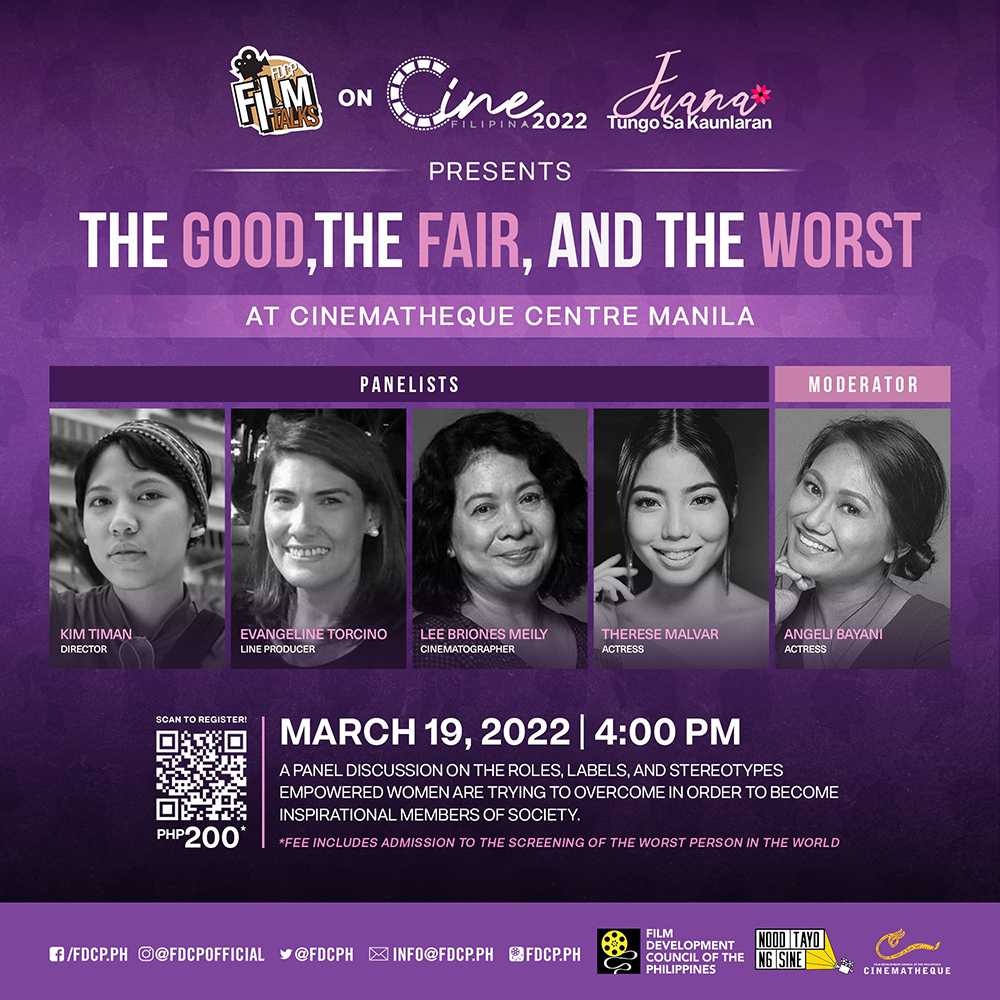 The panel discussion on Saturday, the FDCP Film Talks on Cine Filipina: The Good, The Fair, and The Worst, is a discussion on the roles, labels, and stereotypes empowered women are trying to overcome in order to become inspirational members of society. It will be moderated by actress Angeli Bayani with director Kim Timan, line producer Evangeline Torcino, cinematographer Lee Briones Meily, and actress Therese Malvar as panelists. 
"It is with great pleasure that we invite everyone to catch the limited screenings of The Worst Person in the World in our newly-renovated Cinematheque Centres. This recently acquired film on a female protagonist navigating life will surely strike a chord with the audiences. We hope that this beautifully orchestrated film will be enjoyed by our moviegoers," said FDCP Chair and CEO Liza Diño. 
After the film's recognition from Cannes, it has garnered attention and praise from the likes of Judd Apatow, Dakota Johnson, Jamie Lee Curtis, Licorice Pizza director Paul Thomas Anderson, and even the former US President Barack Obama included the film on his annual published list of favorite films. 
In an interview with Scott Roxborough of The Hollywood Report, Trier shared how his first try at a romantic-comedy genre came about: "We wanted to make a modern romantic comedy where it's not about a woman finding a man in order to find purpose in her life, but to see how being with different people exposes her—to her anxiety, to her fear of commitment and to tease out all the comedy and chaos that comes out from that." 
2021 Cannes Best Actress, Reinsve, who gave life to Julie's character, gives an insight on how the film has changed her from an interview with Lisa Wong Macabasco of Vogue: "In the beginning, she doesn't like who she is, she's running away from situations all the time, and she hates being in her emotions, especially the bad ones." 
"Then she loses both someone in her life and the picture she had of herself and what she could be. Through that, she learns to accept and become comfortable with being herself. A lot of people are going through that now, with the isolation we've all been through. Everyone has been confronted with themselves," Reinsve added. 
Aside from the international film The Worst Person in the World, this year's Cine Filipina is featuring 32 films, talkbacks, panel discussions, and activities exclusively on the FDCP Channel platform. 
Pre-register for the March 19 screening (with panel discussion) through this link: https://bit.ly/CCMWorstPersonMar19. 
For more information, visit www.facebook.com/fdcpchannel or fdcpchannel.ph.