Manila Times College Subic and FDCP Partner for Filmmaking Workshop Series for Students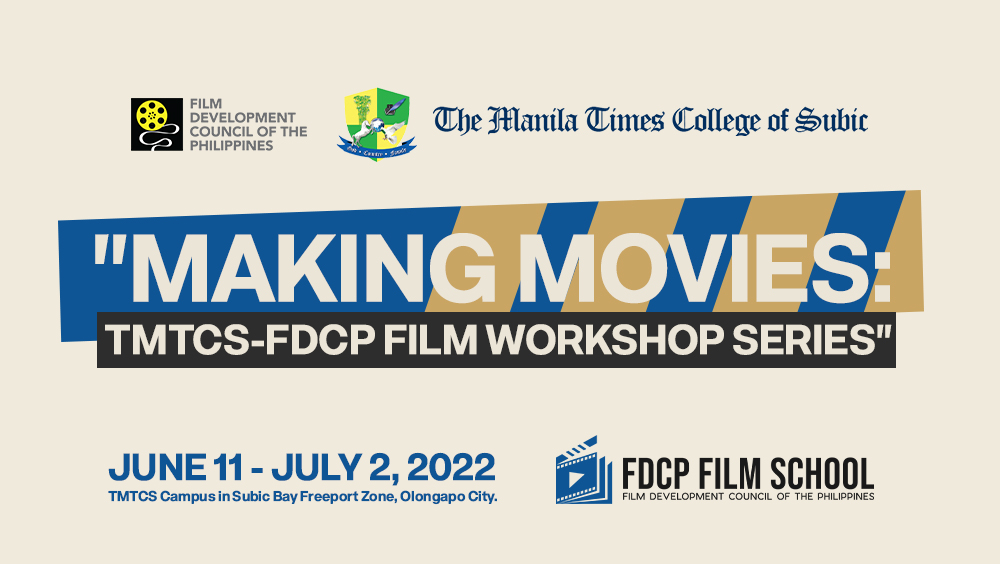 MANILA, PHILIPPINES, JUNE 8, 2022 — The Manila Times College of Subic (TMTCS) in partnership with the Film Development Council of the Philippines (FDCP) will be holding a series of in-person workshops on basic filmmaking through the FDCP  Film School open to senior high school and college students from TMTCS as well as interested college students from Subic and its surrounding cities. The series will run all Saturdays and Sundays between June 11 to July 2, 2022 and will be held at the TMTCS campus in Subic Bay Freeport Zone, Olongapo City.  
The filmmaking workshop series aims to introduce students and enthusiasts to all the aspects of filmmaking, including its dual nature as a cultural medium and as a business enterprise. It is hoped that these workshops will also guide the participants in deciding what field they will want to focus on in their studies and future profession. 
FDCP Chairperson and CEO Liza Diño shares, "Film is a powerful medium. While film has a part in shaping society, filmmaking as a discipline also builds character which is important in nurturing young minds. And so we encourage our young students in Subic to take advantage of this chance to hone their talents by learning from industry experts."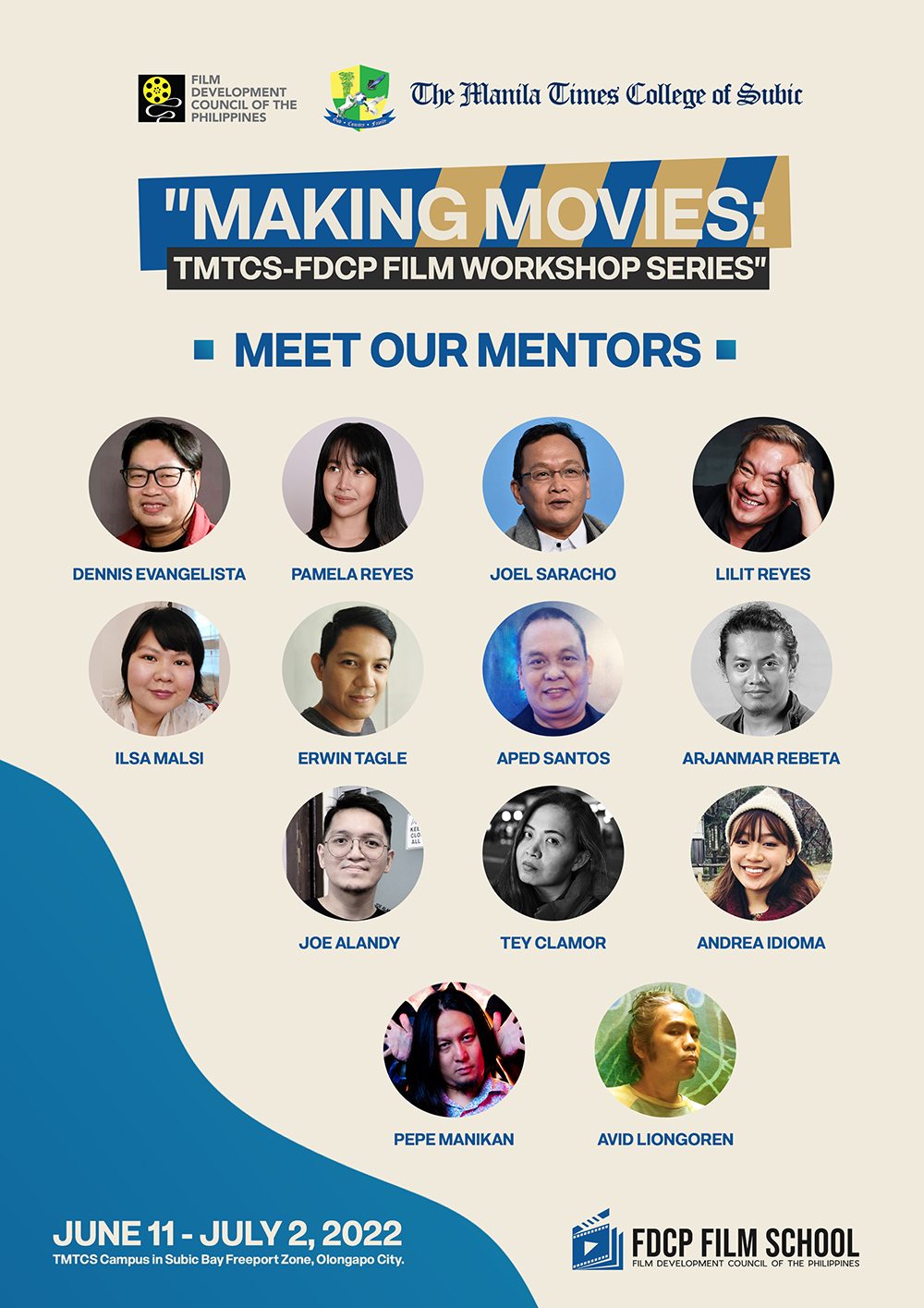 The FDCP Film School basic filmmaking workshop series will be covering topics from pre-production to post production, to the animation genre. The thirteen-session series will be headed by a roster of award-winning speaker-mentors from the film industry comprised of Dennis Evangelista, Pamela Reyes, Joel Saracho, Lilit Reyes, Ilsa Malsi, Erwin Tagle, Aped Santos, Arjanmar Rabeta, Joe Alandy, Tey Clamor, Andrea Idioma, Pepe Manikan, and Avid Liongoren. 
Manila Times Chairman Emeritus and respected publisher Mr. Dante A. Ang, expressed his full support of the endeavor. "TMTCS is glad to be part of an endeavor to boost the career opportunities of the next generation of potential Filipino filmmakers. We are looking forward to the fruits of our efforts in the future when our students start applying the skills they have learned into hopefully award-winning films."
TMTCS Vice President for Academic Affairs Dr. Honey Chille Tolentino also shared her enthusiasm for the project, "TMTCS sincerely appreciates FDCP for extending 100% support to this project. We are very excited to have industry experts and practitioners teach and guide our participants in this activity. In an era of increased anxiety and pressure during the transition to the new normal, the film industry needs more dynamic and creative minds to pursue meaningful productions, not only for entertainment but for information dissemination and education and instruction support. Film productions and the making of quality materials may also offer psycho-emotional outlets where aspiring filmmakers can spend their time purposefully and meaningfully." 
The Manila Times College of Subic builds on the experience of its mother institution, The Manila Times College in Intramuros, Manila, a pioneering journalism school in Asia. Interested participants may register at this link:  https://bit.ly/3adtQic.
FDCP Film School is designed for aspiring, emerging filmmakers and other audiences who want to learn more about filmmaking under the guidance of leading film personalities as mentors who will be sharing their experiences, best practices, techniques, and insider knowledge. For updates and further details, stay tuned to FDCP social media pages.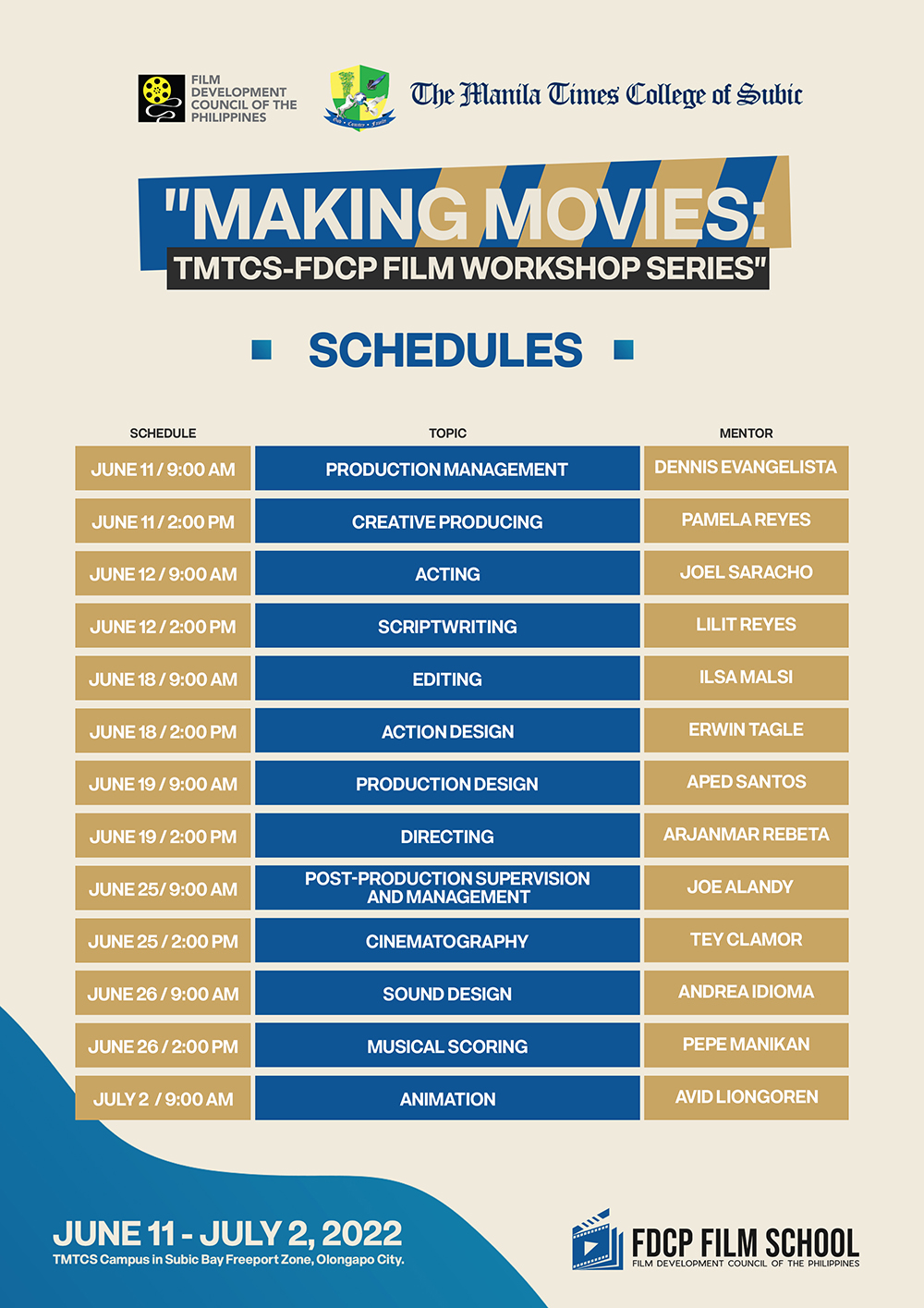 Workshop Schedule
June 11, 2022 - Production Management- Dennis Evangelista
June 11, 2022 - Creative Producing - Pamela Reyes
June 12, 2022 - Acting - Joel Saracho
June 12, 2022 - Scriptwriting - Lilit Reyes
June 18, 2022 - Editing - Ilsa Malsi
June 18, 2022 - Action Design - Erwin Tagle
June 19, 2022 - Production Design - Aped Santos
June 19, 2022 - Directing - Arjanmar Rebeta
June 25, 2022 - Post-Production Management and Supervision - Joe Alandy
June 22, 2022 - Cinematography - Tey Clamor
June 26, 2022 - Sound Design - Andrea Idioma
June 26, 2022 - Musical Score - Pepe Manikan
July 2, 2022 - Animation - Avid Liongoren