Film Ambassadors' Night 2022 to Stream at FDCP Channel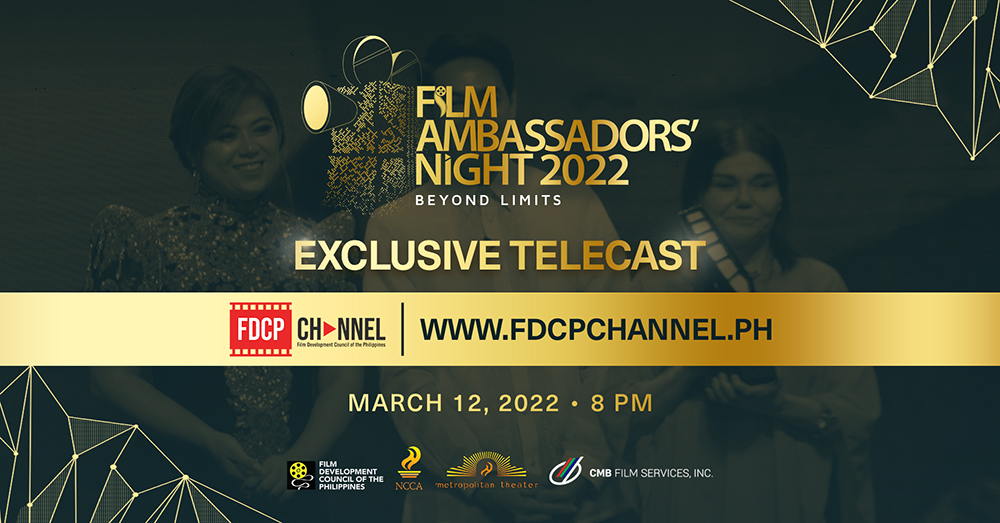 MANILA, PHILIPPINES, MARCH 10, 2022— After the success of recently concluded Film Ambassadors' Night presented by the Film Development Council of the Philippines (FDCP) last February 27 at the historic Metropolitan Theater, the full show's telecast will be streamed on the FDCP Channel (https://fdcpchannel.ph/) for a free one-time access on March 12, 2022, Saturday, at 8:00 PM. 
The 6th Film Ambassadors' Night was a night of recognition for the 77 honorees who showcased Filipino talent in distinguished international film festivals throughout the previous year, and placed the spotlight on the country's promising film industry.
For the safety of all attendees and compliance to the health protocols, the in-person event was held exclusively for the honorees and their guests. With the delayed telecast, the general public will get to have a glimpse of the happenings and experience the celebration at the 6th Film Ambassadors' Night through their own devices.
By heading to fdcpchannel.ph, users may log in through their existing FDCP Channel accounts or create a new one free of charge. Under the "Events" tab, the telecast of the 6th Film Ambassadors' Night will be available to be viewed anywhere in the world. 
"The Film Ambassadors' Night was indeed a memorable occasion of honoring our dear filmmakers for making a mark in global cinema for our country. However, it was an exclusive event limited only to honorees and their guests so we are especially delighted to share with everyone the event's telecast this March 12," FDCP Chairperson and CEO, Liza Diño shared.
The live event taping of FAN 2022 was made possible through a partnership with CMB Film Services and was under the direction of Director Ice Seguerra. 
With the conclusion of this year's Film Ambassadors' Night, the road to the bigger annual gathering in 2023 is starting to take its course. Philippine cinema has already brought home massive wins during the first quarter of 2022, making the industry look forward to a brighter year of creating worthwhile films and going beyond limits. 
To enjoy the free viewing of the 6th Film Ambassadors' Night, log in through FDCP Channel and tune into their social media page for announcements on more films and events to watch out for.