Filipino Programmer Patrick Campos Curates Asian Film Archive's 'Reframe: INLAND, ISLAND' Programme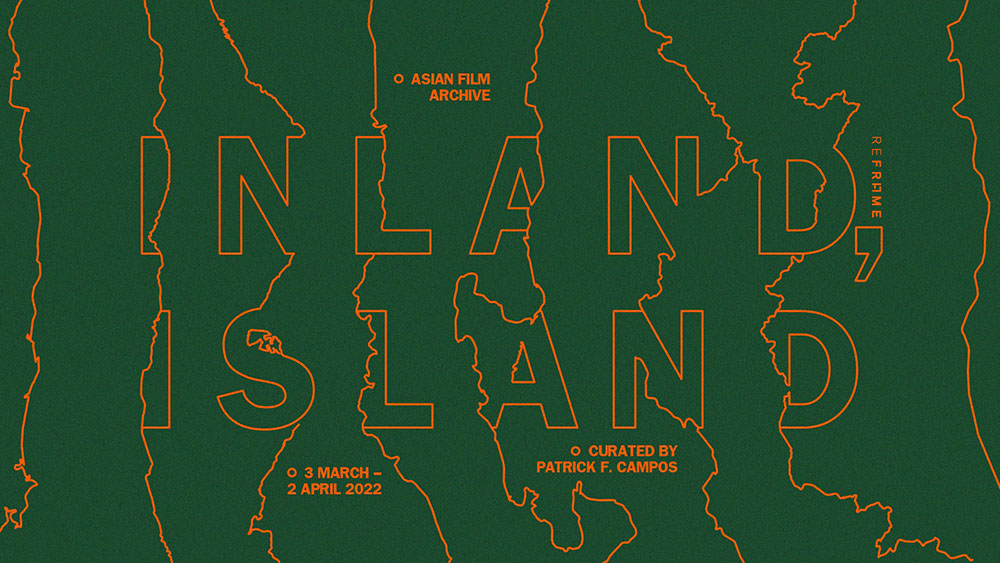 MANILA, PHILIPPINES, MARCH 8, 2022 — To further promote film as an art form and encourage scholarly research on Singapore and Asian cinema, the Asian Film Archive (AFA) has organized a programme of eighteen Southeast Asian films curated by programmer Patrick F. Campos, screening at the Oldham Theatre in Singapore. 
The "Reframe: INLAND, ISLAND" programme explores the concepts "inland" and "island" as imagined in films. The programme offers a different perspective of looking at the connections and similarities among peoples through the films made in the regions of the Philippines, Indonesia, Malaysia, Thailand, Vietnam, and Laos—while focusing on their uniqueness and differences, and the struggles that their denizens experience as they live in the margins. 
Patrick Campos is a film scholar, programmer, and associate professor at the University of the Philippines Film Institute (UPFI) and a member of The Network for the Promotion of Asian Cinema (NETPAC). He is one of Film Development Council of the Philippines' (FDCP) partners from the UPFI for the Philippine Cinema Centennial Organizing Committee in 2019 and has served as one of FDCP's Film School mentors. His research investigates the intertwining of political and cinematic discourses and problematizes notions of 'national' and 'regional' cinema formations.
In a Facebook post last February, Campos shared his excitement and provided a brief information about the programme: "The 18 films made between 1994 and 2020 altogether offer a clear idea of the trajectory and direction of 'regional' filmmaking in Southeast Asia. Friends in Singapore, please try to catch the screenings!"  
"Reframe: INLAND, ISLAND" is composed of fourteen short and feature Southeast Asian films, including three Filipino films Ways of the Sea (Halaw) by Sheron Dayoc, The Dream of Eleuteria (Ang Damgo Ni Eleuteria) by Remton Siega Zuasola, and Forbidden Memory by Gutierrez Mangansakan II. 
"We would like to congratulate Sir Patrick Campos on his curation for the Asian Film Archive's programme—providing his expertise and knowledge on the discourse of national and regional cinema. The Agency also supports this kind of program that will further engage audiences and promote academic works on our local cinema," said FDCP Chairperson and CEO Liza Diño. 
"Reframe: INLAND, ISLAND" will run from March 3 to April 2. Beginning March 4, there will be screenings at the Oldham Theatre, an online programme, and a panel discussion. Last March 3, the additional four short films for the online programme were available to stream on the AFA's website. 
For more information on the programme, screening schedules and tickets, visit AFA's website: www.asianfilmarchive.org/event-calendar/reframe-inland-island/. 
'Reframe: INLAND, ISLAND' Programme: 
Letter to an Angel

(Surat untuk Bidadari) (1994), dir. Garin Nugroho, Indonesia

The City of Mirrors: a fictional biography

(Thành Phố Những Tấm Gương) (2016), dir. Minh Quý Trương, Vietnam

Stories from the North

(Reanglao jak meangnue) (2005), dir. Uruphong Raksasad, Thailand

DOUBLE BILL:
Ways of the Sea (Halaw) (2010), dir. Sheron Dayoc, Philippines and The House Without a Ground (Rumah Ndak Bertanah) (2019), dir. Putri Purnama Sugua, Malaysia
Saudade (2020), dir. Russell Morton, Singapore and The Dream of Eleuteria (Ang Damgo Ni Eleuteria) (2010), dir. Remton Siega Zuasola, Philippines
Flying Dream (2018), dir. Jai Jai, Myanmar and The Story of Southern Islet (Nan Wu) (2020), dir. Keat Aun Chong, Malaysia
The Island Funeral

(Maha samut lae susaa) (2015), dir. Pimpaka Towira, Thailand

Forbidden Memory

(2016), dir. Gutierrez Mangansakan II, Philippines

DOUBLE BILL:
The Future Cries Beneath Our Soil (Mùa Cát Vọng) (2018), dir. Thu Hang Pham, Vietnam and Melody of Change (2016), dir. Ka Xiong and Cyril Eberle, Laos
The Ballads of Cinema Lovers

(Balada Bala Sinema) (2017), dir. Yuda Kurniawan, Indonesia