FDCP Opens Call for Industry Professionals for Event Safety Summit Online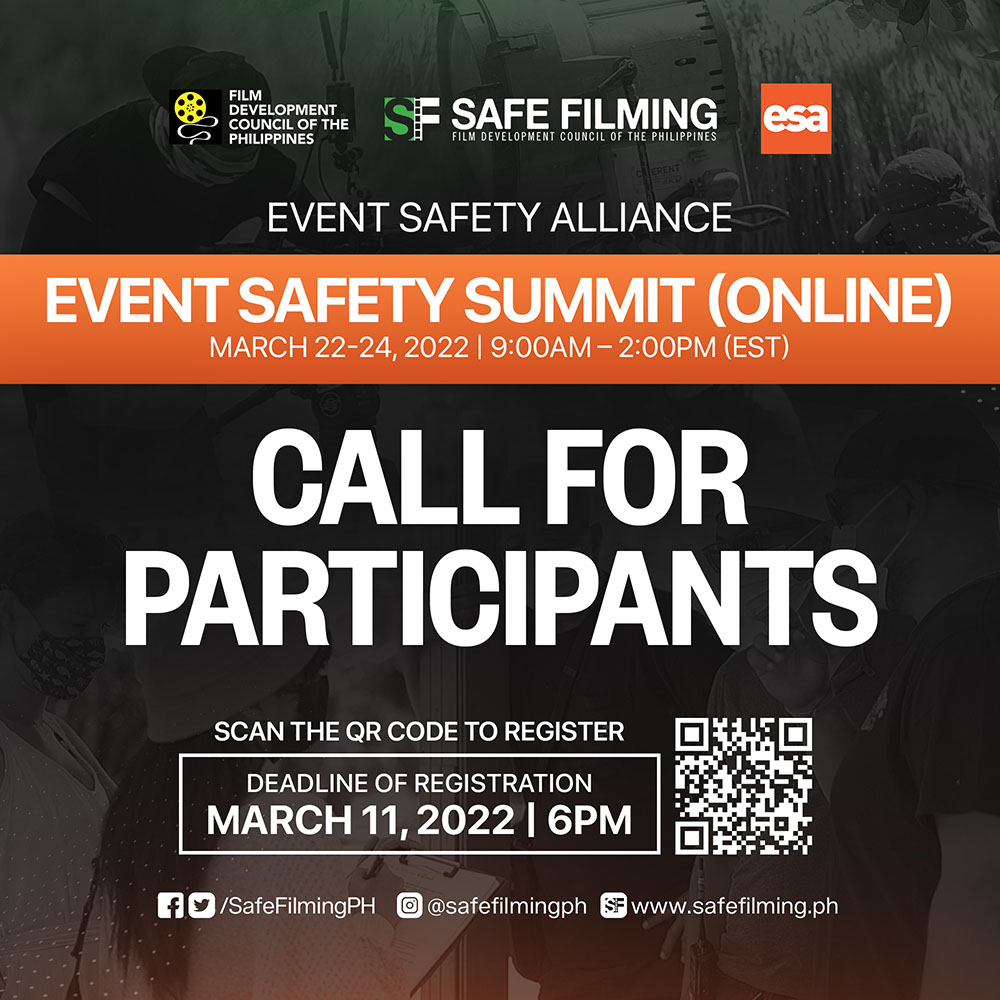 MANILA, PHILIPPINES, MARCH 2, 2022 — In line with its goal to build a culture of safety in the film and audiovisual industry, the Safe Filming program of the Film Development Council of the Philippines (FDCP) is holding a call for online participants to the hybrid Event Safety Summit for industry professionals in Rock Lititz in Lititz, Pennsylvania. 
Organized by the Event Safety Alliance (ESA), the Event Safety Summit brings together professionals from entertainment, sports, and corporate event industries across the globe to discuss all practices of safety, security, and health at live events, featuring a diverse line-up of presentations, panels, workshops, and networking opportunities.
"As we uplift the quality of our films and as we strive to build a global presence in the international stage by equipping our filmmakers with the foundation they need, it is also equally important to strengthen and champion our workers' rights. The first step is to build and ingrain the culture of safety within the audiovisual industry," said FDCP Chairperson and CEO Liza Diño.
"The Event Safety Summit is a platform where our industry professionals will learn from international mentors and peers on the best practices we can follow. While we develop the local film and audiovisual industry as a whole in this pandemic-induced landscape, safety comes first, always," she added.
The Agency will select five (5) industry professionals as participants to the online summit and will receive a free badge to access all of the sessions virtually. Interested participants may register through this link: bit.ly/EventSafetySummitOnline. Deadline of registration is on March 11, 6:00 PM. 
The summit will run from March 22 to 24, 2022 (EST) in a hybrid format. For the lineup of sessions, guidelines and eligibility, see below: 
Current Sessions
Training Basics for Basic training – How to Develop a Training and Education Program

Role, Not Rank: ICS for Live Events Tabletop

Get Out: Science, Design, and Decisions that Impact Event Evacuation

To The Bridge! Event Control Room Design & Operations.

Where Have All the Workers Gone? The Labor Shortage and What One Can Do About It

Codes, Standards, and Reasonable Safety Practices for the Event Industry

Sexual Harassment Policy Development Workshop

In My Shoes: Accessibility in Practice

"What the Truck" Everything you need to know about event trucking safety on-site and in route!

Demos, Discos, and Dive Bars: Applying a Harm Reduction Approach to Event Safety

Extinguishing Fires at Live Events

Risk Identity: Why Most People Don't See or Say Something About Safety Hazards

Starting from Scratch: Designing Safe Event Sites from the Ground Up

Hackers Everywhere!  Cyber Security for Live Events

Leveraging Technology to Create a Proactive Safety Culture
Eligibility 
Industry Professionals (e.g: Event Organizer, Events Director, Production Manager, Stage Director, etc.)

Representative of an Audiovisual Company (e.g: Advertising. Cinemas, Events, Entertainment, Film, Television, etc.)

Full Time/Freelance Safety Officer in the Film and Audiovisual Industry

Must be a member or willing to register to the

FDCP National Registry (NR)
Guidelines
Interested participants must:
Satisfy all the requirements of the registration form 

Be available from March 22 to 24, 2022 during the online summit,  Eastern Standard Time (EST)

Have a primary and alternative device preferably a desktop or laptop

Have a download and upload speed of at least three (3) Mbps

Be willing to give back to the community by participating in FDCP-supported events, activities, or projects as a volunteer worker or professional. *(subject to participant's availability as a return service)