FDCP FILMPHILIPPINES INCENTIVES CYCLE 1 2022 IS NOW OPEN FOR APPLICATIONS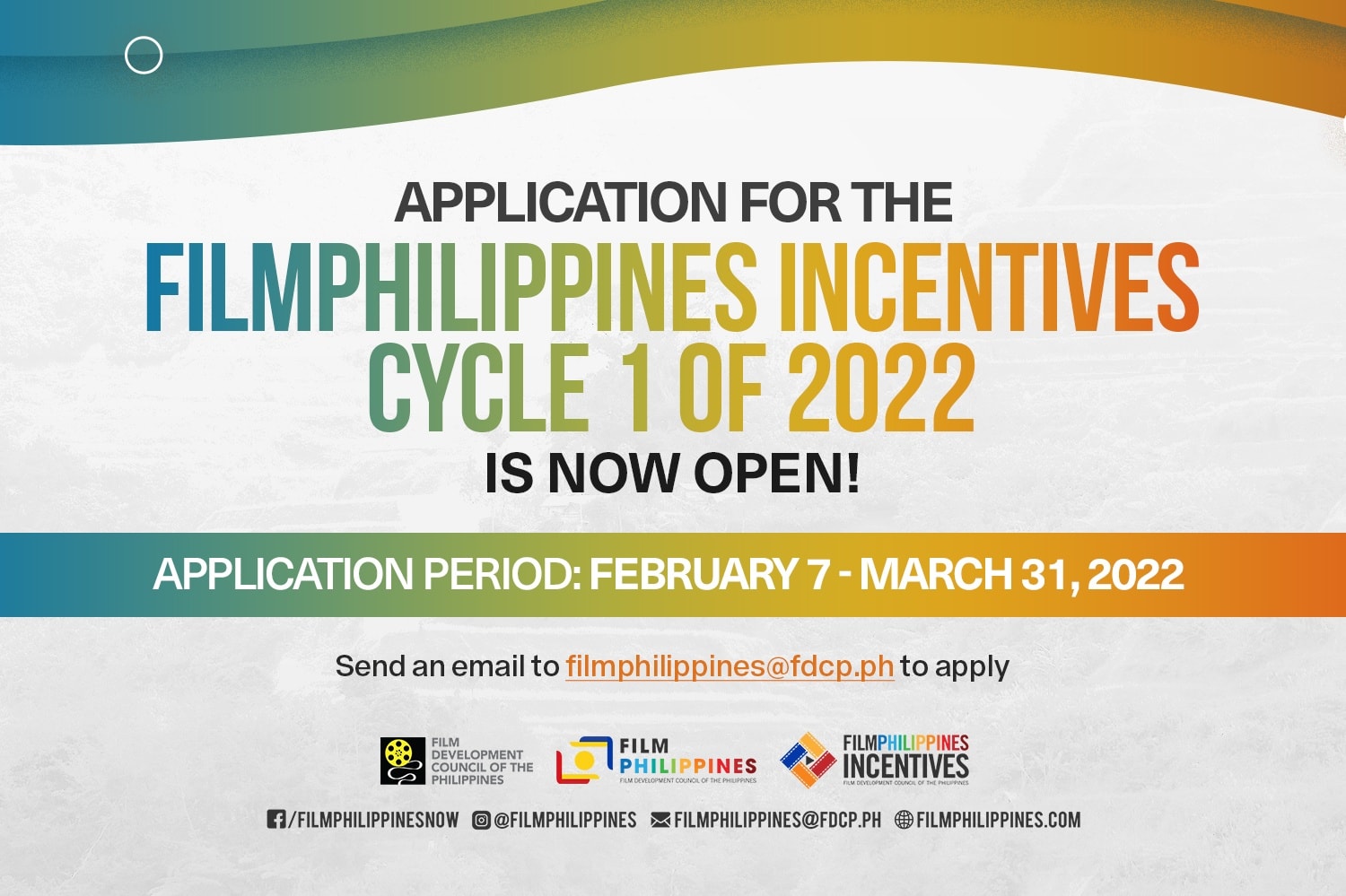 MANILA, PHILIPPINES, FEBRUARY 7, 2022 (Updated) — The Film Development Council of the Philippines' FilmPhilippines Office is now accepting applications for this year's Incentives Program Cycle 1. The call is open to international production companies in business with a Philippine film producer/company on an ongoing project. 
To encourage co-production and for international filmmakers to decide to have the country as film destination, the country offers location incentives to attract international film and audiovisual projects for production and post-production as well as foreign producers looking to do international co-productions with Filipino producers.
Interested filmmakers and production companies may apply to the following incentive programs:
Film Location Incentives Program (FLIP): Grantees will receive a 20% cash rebate on their qualified Philippine production expenditures, with rebate not exceeding PHP 10 million (approx. USD 200,000), provided a minimum qualified production spending of PHP 8 million (approx. USD 157,000) was spent within the Philippines;

International Co-production Fund (ICOF):  Grantees will be eligible to receive a selective fund for international co-productions with the Philippines that will provide cash incentives of up to 40% on the project's qualified Philippine production expenditures with a maximum amount of PHP10 Million; and 

ASEAN Co-production Fund (ACOF): Grantees will receive a selective fund of USD 50,000 up to USD 150,000 with fifty percent of which must be spent on qualified Philippine production expenditures, and provided that the selected ASEAN film is a co-production with a Filipino production company, and is helmed by a director from an ASEAN member country (Philippines,

Vietnam, Lao PDR, Myanmar, Indonesia, Malaysia, Singapore, Thailand, Brunei Darussalam, and Cambodia)

.
The incentives programs will have three application periods for 2022, with each one followed by a Selection Committee deliberation the following month:
Cycle 1: February 7, 2022 - March 31, 2022 (April deliberation period)
Cycle 2: May 2, 2022 - June 30, 2022 (August deliberation period)
Cycle 3: September 1, 2022 - October 31, 2022 (December deliberation period).
Since 2020, the FilmPhilippines Incentives (FPI) has been steadfast in its goal to promote the Philippines as a highly viable filming destination.Through these incentives programs, the FDCP, through its FilmPhilippines Office, aims to provide funding for domestic and international co-productions to open opportunities for Filipino film producers to serve as line producers, partners or co-producers for the production of quality projects, toward the goal of fostering internationalization and continuous professional growth, create jobs for homegrown pool of film workers, and generate revenue for service providers in the country.
Some of FPI's  previous grantees are Ella Arcangel: Awit ng Pangil at Kuko by Mervin Malonzo, Dancing the Tides by Xeph Suarez, Hold My Gaze by Carlo Enciso Catu, Kodokushi by Janus Victoria, Cu Li Never Cries by Pham Ngoc Lan, Almost Paradise by Dean Devlin, and the hit reality TV series Survivor.
ICOF and FLIP were launched in 2019, while ACOF was inaugurated the following year in 2020. Now on its third year, FPI comes with an updated set of guidelines which you can download at this link along with the application form: www.filmphilippines.com. For queries and concerns regarding the program, contact [email protected].