FDCP, CHED to Premiere 10 Shorts at the Cineiskool Short Film Lab and Festival in Gateway Cinema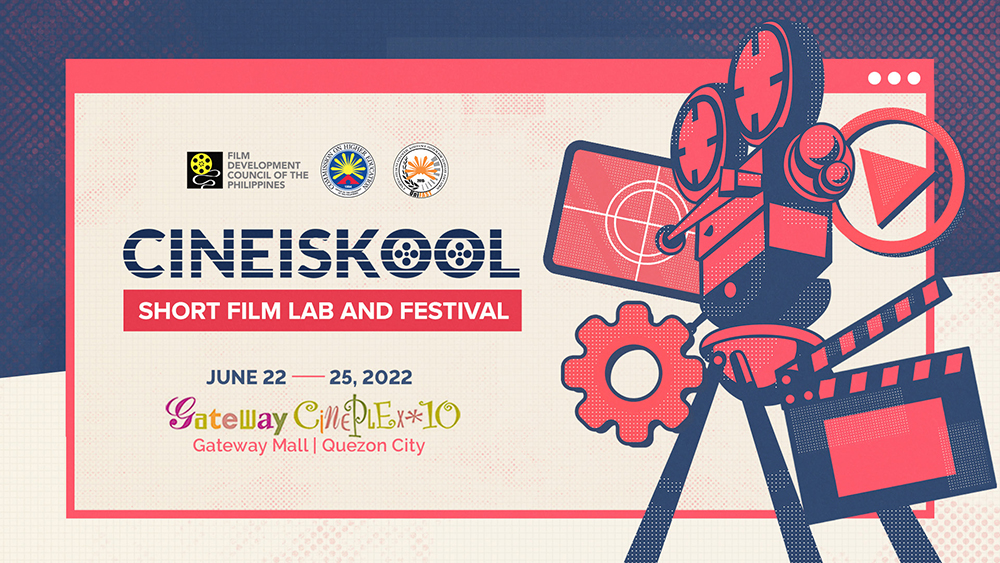 MANILA, PHILIPPINES, June 21, 2022 — Partner agencies Film Development Council of the Philippines (FDCP) and the Commission on Higher Education-Unified Student Financial System for Tertiary Education (CHED-UniFAST) are finally showcasing the ten (10) short films produced under the CineIskool Short Film Lab and Festival in a premiere and awards night happening in-person at the Gateway Mall, Quezon City on June 22, 2022, to be followed by two days of screening, panel discussion, and talkback sessions on June 23 and June 25. This culminating set of activities will be capping the joint project of the two government agencies, FDCP and CHED-UniFAST, which began its initial talks in 2020 and was launched last 2021.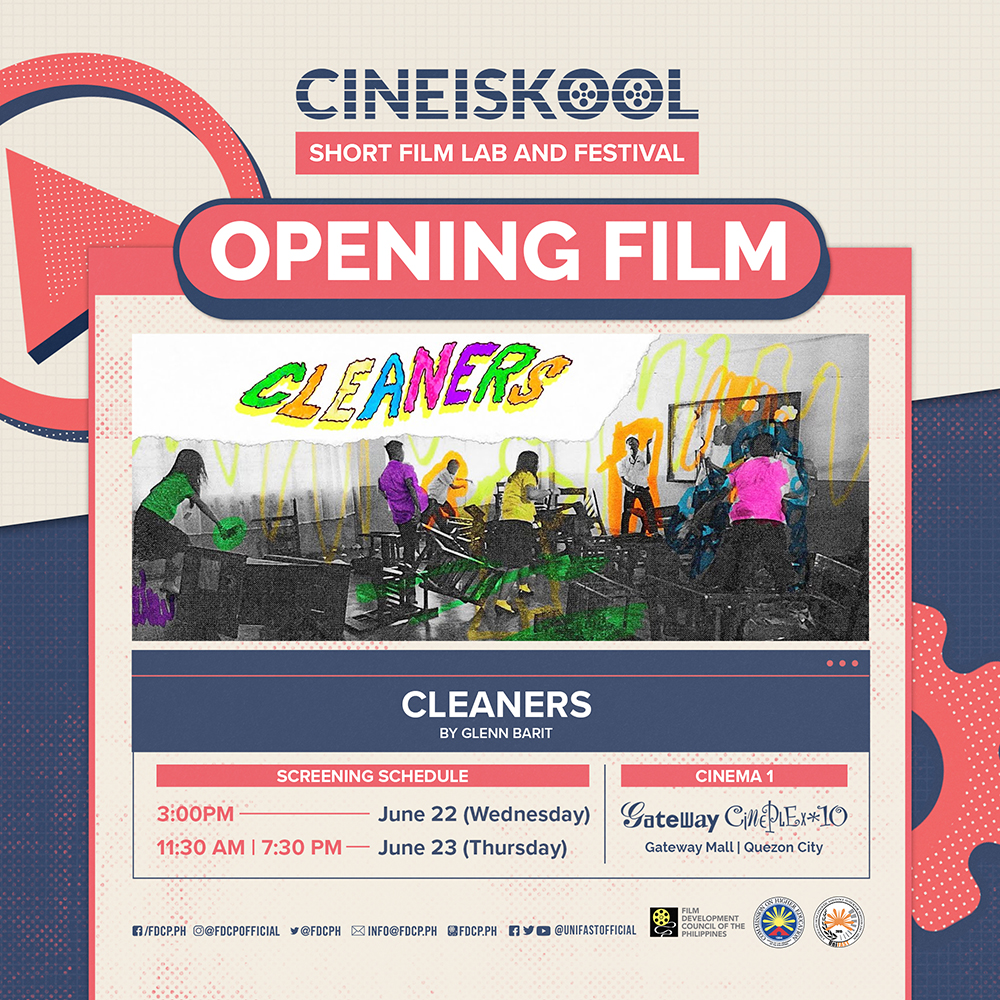 The CineIskool short film finalists will have a free public screening at Gateway Cinema 1 and will be shown as a set with three screening schedules, one at 2:00 PM on its premiere on June 22, at 5:30 PM on June 23, and at 12:00 PM on June 25. Special screenings of Glenn Barit's award-winning feature film Cleaners on June 22-23 will also accompany the finalists showcase. Barit's fresh take on Filipino student experience won Best Picture, Best Screenplay, and the Audience Choice Award at the 2019 QCinema International Film Festival.
During the Awards Night, cash prizes will be given to CineIskool's Best Film, Best Director, Best Screenplay, Jury's Choice, Special Mention, and Chairman's Award. The winner of the top plum, the Best Film award, will receive P50,000 in cash prize. 
To make the event more meaningful, there will also be a panel discussion to be moderated by director Carlo Catu, and a talkback session that will discuss the participants' journeys after the screening of the films on June 23. Screening will continue on Saturday, June 25. 
FDCP Chairperson and CEO Liza Diño expressed her enthusiasm for the project, "It is an honor to collaborate with CHED-UniFAST in supporting initiatives like CineIskool, which not only creates a track for our future filmmakers, but also documents and brings to life poignant narratives from the young scholars from real to reel. These beautiful stories of hope and inspiration reflected the journeys and challenges of beneficiaries of CHED-UniFAST's free tertiary education program. Special thanks to our filmmaker mentors who helped shape their projects from end to finish. Our gratitude to Chairperson Popoy De Vera for entrusting FDCP with organizing CineIskool Film Lab and Festival and realizing his vision of making these narratives and CHED's assistance program more known. "
"We are very excited to be culminating this important project and to finally show the products of the students' hard work. These are real stories. These films show how free Higher Education subsidies changed these students' lives," CHED UniFAST OIC Executive Director Ryan Estevez shares.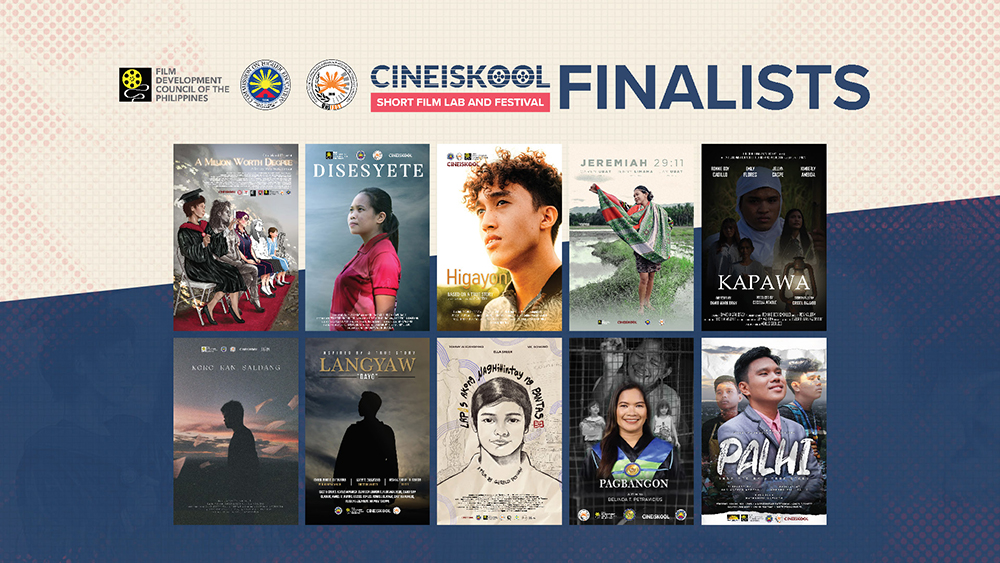 The following are the ten CineIskool short film finalists:
Lapis Akong Naghihintay Ng Pantasa

by Gerald Pesigan

Higayon (Chance)

by John Paul Corton

Kapawa (Liwanag)

by Crisol Bajado and David Mark Oray

A Million Worth Degree

by Mary Franz Salazar

Koro Kan Saldang (Chorus of the Sun)

by Xavier Roncesvalles

Palhi

by John Angelo Arroyo

Jeremiah 29:11

by Caren Ubat and Jenny Mae Limama

Langyaw (Dayo)

by Jayve Cabanero

Pagbangon: A Movie Documentary

by Belinda Petravicius

Disesyete

by Sheena Grace Torres and Adora Paula M. Bangay
CineIskool aims to raise awareness on the various assistance programs and opportunities for free tertiary education provided by the government. CHED-UniFAST, with the help of FDCP, aims to use these short films as a tool in inspiring the youth to seek and benefit from academic opportunities that are available to them. 
The filmmakers of the ten projects who were granted Php 125,000 funding to produce their 3-5-minute shorts films underwent rigorous film training under some of the most respected names from the local film industry. Prior to finishing the above short films, the participants attended film labs on the different stages and aspects of filmmaking which discussed techniques and technicalities on Story Development, Production Management, Technical, Safe Filming, and Editing. FDCP resident mentors, Arden Rod Condez, Kristoffer Brugada,  Arjanmar Rebeta, Gale Osorio, Che Tagyamon shared their expertise with the students.
The showcase of CineIskool short films will happen alongside two other FDCP events screening short and full length films in the same venue for free. As part of the celebration of Pelikulaya: LGBTQIA+ International Film Festival of the Agency, ten (10) short films in competition will be screened on June 23, 1:30 PM. While under the "Pelikulaya Goes to Gateway," the following LGBTQIA-themed full-length films will be screened on June 25: Traslacion: Ang Paglalakad sa Altar ng Alanganin by Wil Fredo at 1:30 PM, Boys Don't Cry by Kimberly Peirce at 4:30 PM, and Gameboys The Movie by Ivan Andrew Payawan at 7:30PM.  In partnership with another government agency, the Department of Health, the Healthy Pilipinas Short Film Festival will also be screening  six (6) shorts films on healthy habits at Gateway Cinema 1 on June 25, 2022 at 2:30 PM.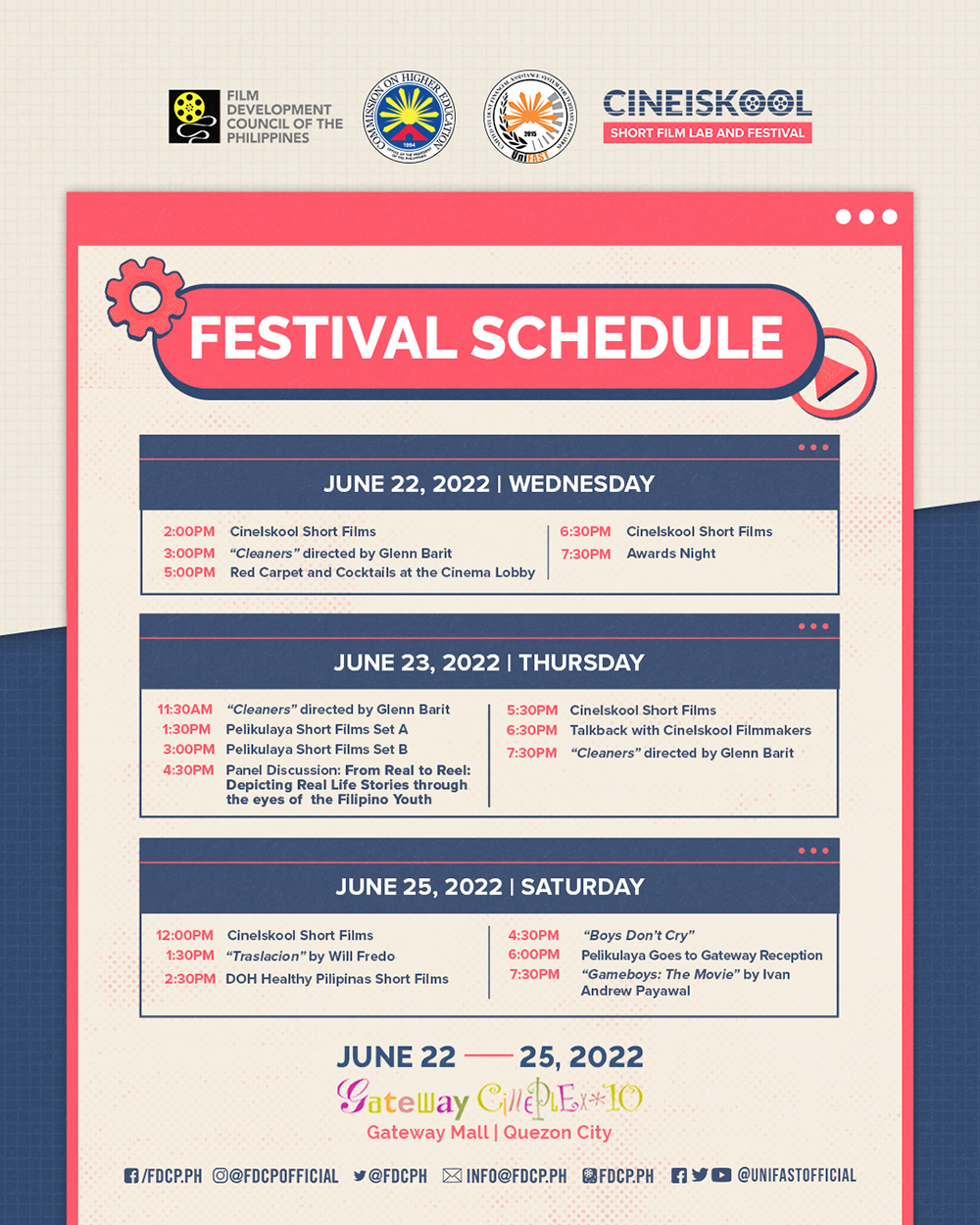 CineIskool Film Festival Schedule
June 22, 2022 (Wednesday) 
2:00 PM CineIskool Short Films
3:00 PM Panel Discussion: Screening of Cleaners by Glenn Barit
5:00 PM Red Carpet and Cocktails (Cinema Lobby)
6:30 PM CineIskool Short Films
7:30 PM Awards Night
June 23, 2022 (Thursday) 
11:30 PM Screening of Cleaners by Glenn Barit
4:30 PM Panel Discussion: From Real to Reel:Depicting Real Life Stories through the eyes of  the Filipino Youth 
5:30 PM CineIskool Short Films
6:30 PM Talkback with CineIskool Filmmakers
7:30 PM Screening of Cleaners by Glenn Barit
June 25, 2022 (Saturday)
12:00 NN CineIskool Short Films