FDCP Announces 20 Shortlisted Projects for Sine Kabataan Short Film Lab and Festival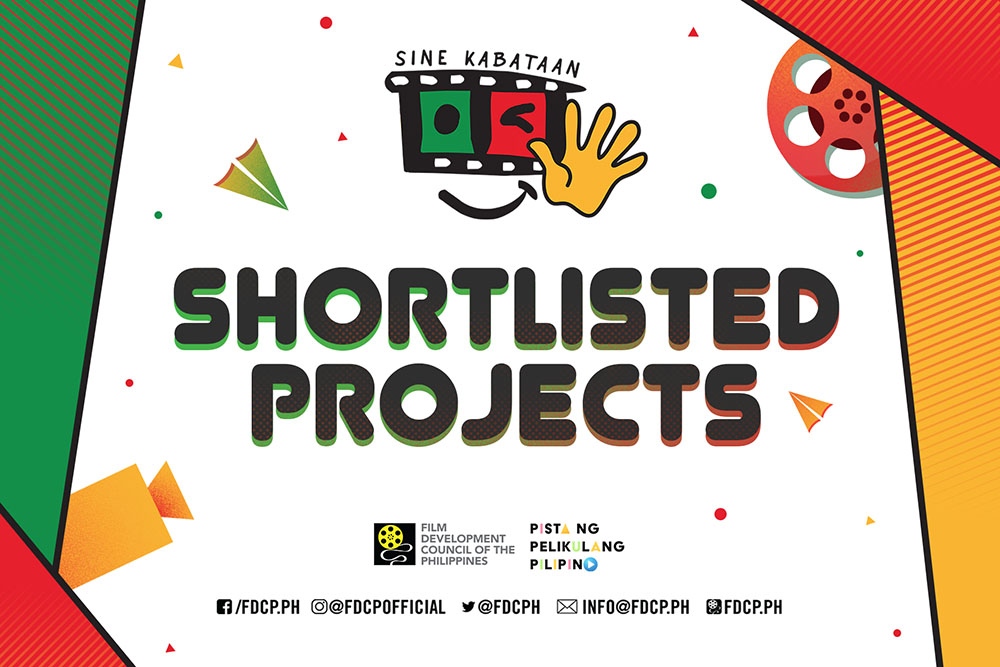 MANILA, PHILIPPINES, MARCH 9, 2022 — Twenty (20) story concepts from young filmmakers have been shortlisted to undergo film labs for the Sine Kabataan Short Film Lab and Festival 2022. 
Sine Kabataan is a youth film competition, now in its fifth year, organized by the Film Development Council of the Philippines (FDCP) that aims to encourage young filmmakers to develop their creativity and originality in storytelling while touching on important issues as perceived by their generation today. This is the second time that the Sine Kabataan carries out intensive lab sessions exclusively for the participants. 
After the Call for Entries in November 2021, followed by a meticulous deliberation of the entries, the FDCP selection committee has selected twenty projects that will undergo the Story Development Lab to be mentored by award-winning Filipino filmmaker Petersen Vargas. His queer youth-oriented films include his debut feature 2 Cool 2 Be 4gotten, regional short Lisyun qng Geografia, and his latest work How to Die Young in Manila. 
The shortlisted 20 projects will then go through the Pitching Lab where they will be taught how to build the messaging and branding of their projects to more effectively produce and market their films to different investors. After the lab, the participants will present their story concepts to the Selection Committee at the Pitching Showcase. The panel will choose 10 finalists from the shortlist who will each receive PHP 100,000 as grant to produce their short films and continue with the Safe Filming and Editing labs. 
This year's pre-selected story concepts from Luzon, Visayas, and Mindanao, tackle diverse subjects ranging from coming-of-age themes, to social commentary, and environmental issues. The entries this year also include a number of projects that will employ a mixed media and animation format to the competition.
"Since 2017, Sine Kabataan has become a platform for our young filmmakers to showcase their talents through stories that touch on relevant issues such as familial and social relationships, education, mental health, HIV, and LGBTQIA+. We are proud that we are again witnessing a new batch of filmmakers that will give a new perspective on these themes," said FDCP Chairperson and CEO Liza Diño. 
"Congratulations to the shortlisted story concepts and we hope that the film labs will be of great help not just for this competition, but also in their filmmaking journey," she added.
The fifth Sine Kabataan film labs and events will be held in a hybrid format. The ten films selected as finalists will be competing in the FDCP banner project, Pista ng Pelikulang Pilipino (PPP) where the short films will be screened nationwide during the festival duration. 
The 20 Shortlisted Projects of Sine Kabataan 5 Short Film Lab and Festival: 
Ami ug Migo (Ami and Migo)

by Karina Jabido

Anak ng Santol

by Karen Israel and Janica Mae Regalo

Astronaut Kid

by John Paul C. Corton 

Back Home

by Anna Katrina G. Velario

Bahala na si Darna

by Jeriah Emel S. Capil 

Boy Kilat

by Faith Anne Aragon

Da'un Ka Kayu (Leaf of Tree)

by Jean Villame

Eugene Saves the Day!

by Kenneth Sta. Maria Duran

Friends and Rainy Days

by Raiza Masculino

Goodbye, Mr. Froggy

by James Russel V. Magnaye

Harvatera

by John Nathaniel Molina

HM HM MHM

by Samantha Pauline Villa-Real & Kim Rivera Timan 

Kalumbata (Philippine Eagle)

by Ryan C. Cuatrona 

Kapitan Kidlat

by Kaya A. Guillen

No More Crying 毋通閣吼咯

by John Peter C. Chua

Sabi Nila

by Jeld Gregor I. Manalo

T*ng Ina! Buntis Na Si Kylie Paner

by Brianne Carlo M. Amparado

Tinta

by Ralph John Velasco

Tong Adlaw Nga Nag-Snow Sa Pinas (The Day It Snowed in the Philippines)

by Joshua Caesar Medroso

Unsolved Equation

by Dexter Paul De Jesus