3 Filipino Films to Premiere in Osaka Asian Film Festival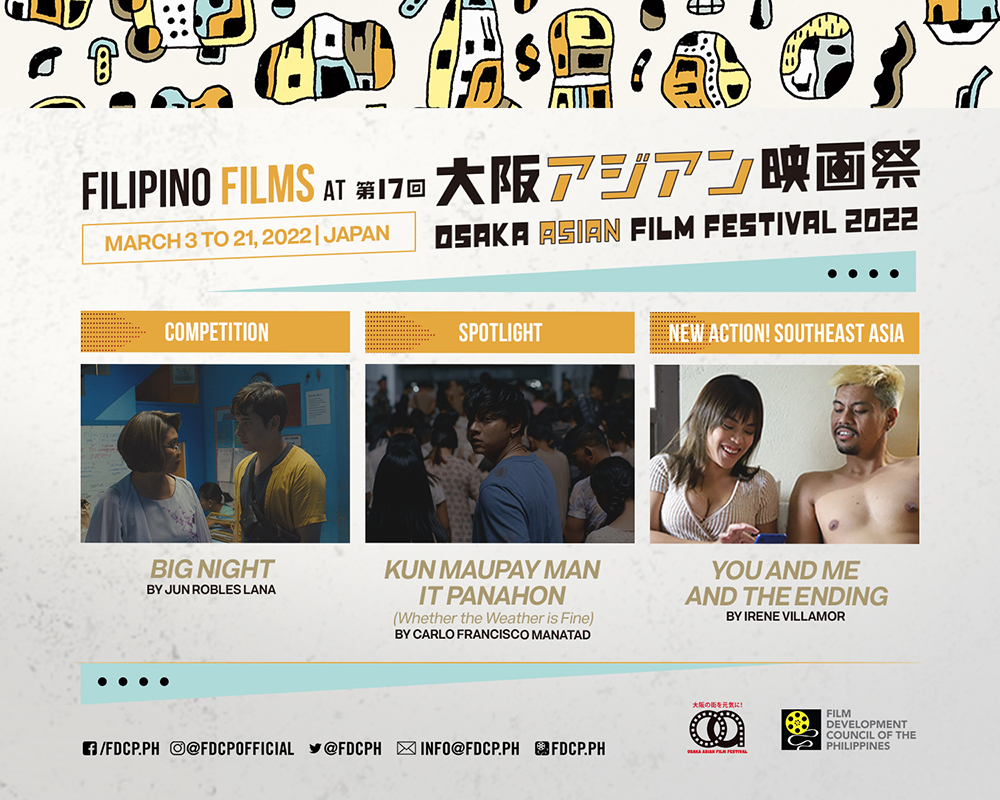 MANILA, PHILIPPINES, MARCH 2, 2022 — Three Filipino films are set to have their Japanese premiere in the 17th Osaka Asian Film Festival (OAFF), a platform that showcases a high-quality selection of Asian films every year, from March 10 to 20, 2022. 
The Metro Manila Film Festival (MMFF) Best Picture Big Night by Jun Robles Lana will take part in the Competition section and will vie for the OAFF's Grand Prix and Most Promising Talent Award against 14 other competing films. Comedy film Big Night revolves around hairdresser Dharna, played by Christian Bables, who tries to clear her name after being incorrectly implicated in her barangay's drug watchlist. 
Joining the festival's Spotlight program that features emerging films is Carlo Francisco Manatad's Whether the Weather is Fine, MMFF 2nd Best Picture winner and also an FDCP FilmPhilippines International Co-production Fund (ICOF) grantee. Starring Daniel Padilla, Charo Santos-Concio, and Rans Rifol, the film is set after the onslaught of Typhoon Yolanda (Haiyan) in Tacloban City, Leyte. Miguel (Padilla) searches for his mother Norma (Charo Santos-Concio) and his beloved Andrea (Rifol) before another storm approaches. 
Irene Villamor's You and Me and the Ending (Ikaw at Ako at ang Ending) will also premiere in the Special Programs < New Action! Southeast Asia >, a section that highlights new movements in Southeast Asian cinema. The film is about two hopeless strangers, played by Kim Molina and Jerald Napoles, meeting in an unexpected time where both are trying to escape their miserable realities.
"I am excited that three Filipino films are selected to premiere in the Osaka Asian Film Festival, to reach more audiences and eventually open more opportunities for them and our emerging local filmmakers in the future. The consistent and continuous participation of Filipino films in different intentional platforms signifies that we are on the right path," said FDCP Chairperson and CEO Liza Diño.
In 2021, short film Excuse Me, Miss, Miss, Miss by Sonny Calvento, feature films Here and There (Dito at Doon) by JP Habac and Broken (Kintsugi) by Lawrence Fajardo participated under the Special Programs < New Action! Southeast Asia > section of the festival. 
Since 2005, the OAFF has introduced films from Japan and Asia to further boost its economy and make Osaka a hub for Asian films, engaging people from different fields. 
The annual OAFF will run from March 10 to 20 in a hybrid format. Tickets for the screenings are available here: https://www.oaff.jp/2022/en/ticket/index.html. 
Filipino Films Screening in the Osaka Asian Film Festival 2022:
Competition 
Big Night

by

Jun Robles Lana 
Screening schedule:
March 11 | Friday | 16:40 | Cine Libre Umeda 3
March 17 | Thursday | 16:15 | ABC Hall
Spotlight
Whether the Weather is Fine

by

Carlo Francisco Manatad 
Screening schedule:
March 11 | Friday | 21:10 | Umeda Burg 7, Screen 7
March 15 | Tuesday | 16:00 | @Cine Libre Umeda, Screen 4
Special Programs < New Action! Southeast Asia >
You and Me and the Ending

by Irene Villamor 
Screening schedule:
March 11 | Friday | 12:30 | Cine Libre Umeda 3 
March 17 | Thursday | 18:40 | Cine Libre Umeda 4