Filipinos Make Waves in Locarno Film Festival 2021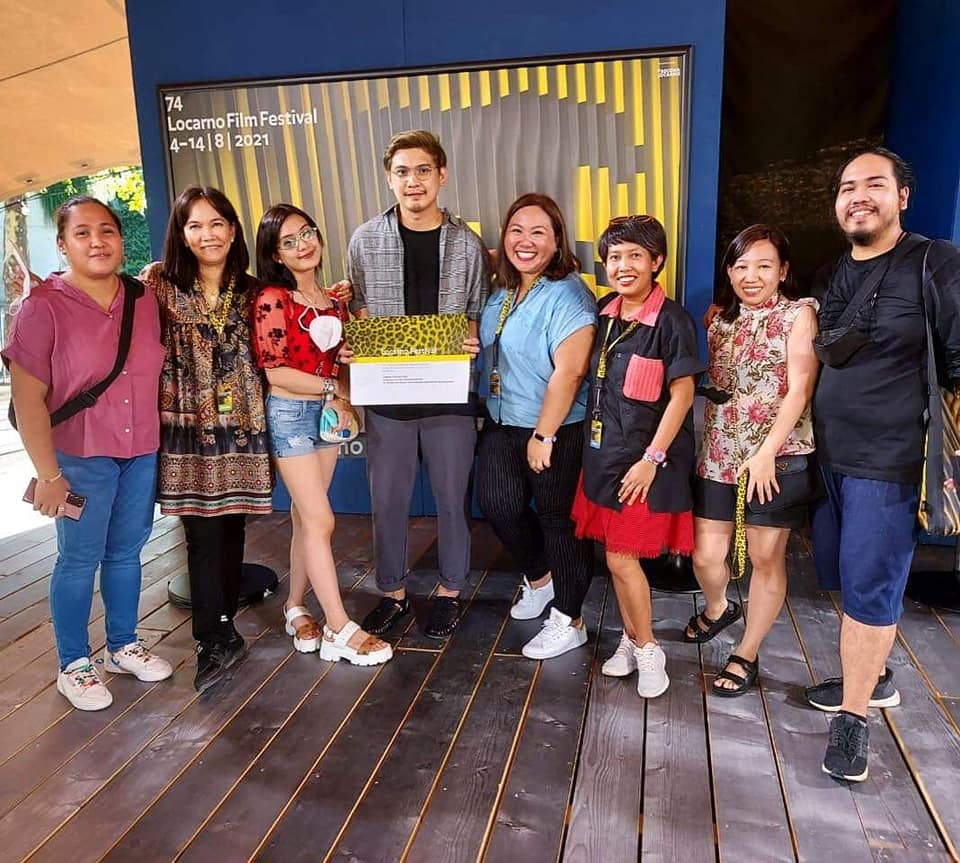 MANILA, PHILIPPINES, AUGUST 17, 2021 — "Kun Maupay Man It Panahon" (Whether The Weather Is Fine) by Carlo Francisco Manatad and "SAM" by E del Mundo are among the winners of the recently concluded 74th Locarno Film Festival in Switzerland.
"Kun Maupay Man It Panahon," which had its world premiere in the Concorso Cineasti del Presente (Filmmakers of the Present Competition), bagged the Cinema e Gioventù Prize (Cinema and Youth Prize) from the Concorso Cineasti del Presente Junior Jury.
The typhoon Haiyan (Yolanda) drama starring Daniel Padilla, Rifol, and Charo Santos-Concio was the only Filipino film in competition in Locarno. It premiered on August 9 at PalaCinema Locarno.
According to a review by Giovanni Marchini Camia, one of the Programmers of Locarno's Selection Committee - Feature Films, Manatad's debut feature film has "keen empathy, dashes of dark, yet compassionate humor, and occasional flights into fantasy." He continued, "Manatad takes us on an extraordinary journey across a Boschian panorama of dire need and fortitude."
"Kun Maupay Man It Panahon" was supported by various film labs, festivals, commissions, and organizations, including the Film Development Council of the Philippines (FDCP). It was part of the 2019 FDCP Project Market while in 2021, it was among the grantees of the FDCP's FilmPhilippines International Co-production Fund (ICOF). 
In September, "Kun Maupay Man It Panahon" will head to the 46th Toronto International Film Festival where it will have its North American premiere under the Contemporary World Cinema program.

From FCL PH to Open Doors Locarno
"SAM," directed by del Mundo and produced by Pamela Reyes of Create Cinema,  received the second prize of the Locarno Open Doors Development Grant worth 15,000 Swiss francs as well as the Sørfond Invitation Award, which allows the project to participate in the Pitching from the South program of Sørfond - Norwegian South Film Fund in November. 
The Open Doors program aims to assist directors and producers from the South and the East. From 2019 to 2021, it had a three-year focus on Mongolia and Southeast Asia. 
Its 19th edition handed out awards for the Open Doors Hub for promising projects seeking international co-productions and Open Doors Lab for creative producers seeking to access the overseas market. 
Del Mundo and Reyes were at the Awards Ceremony in Locarno as Open Doors Hub participants and members of the Philippine Delegation to Locarno.
Reyes posted about their recent feat for del Mundo's debut feature film project. "We've been developing this film project since 2018 with Southeast Asian Film Lab, A Post Lab, Full Circle Lab, TorinoFilmLab where it won the Focal Resource award, and now with Locarno Film Festival's Open Doors Hub. Special thanks to the Film Development Council of the Philippines and Chair Liza Diño-Seguerra for the unending support. These two girls still have a long way to go," she said on Facebook.
Originally titled "Thanatos," "SAM" was a project in the 2019 Full Circle Lab Philippines (FCL PH), a capacity-building program organized by the FDCP and Tatino Films that supports Filipino and Southeast Asian filmmakers in enhancing their projects with the help of international experts.
The Open Doors jury said that "SAM" revolves around "a main character's struggles with trauma and its moral intrigue after failing to do what is right in a harsh society desensitized to violence," according to  a Variety report by Will Thorne. 
"The project stood out with its deeply moving and personal pitch. A compelling project investigating the concepts of morality and guilt in a situation where refusing to be complicit to evil will put yourself in great danger. We look forward to presenting the project to our Norwegian producers," stated the Sørfond - Norwegian South Film Fund.

Boosting Philippine and Southeast Asian Cinema
Another Open Doors Hub awardee was the Myanmar-Philippines-Indonesia co-production "The Beer Girl in Yangon" directed by Sein Lyan Tun of Myanmar and produced by Indonesian John Badalu of Myanmar's PS Film Production and the late Joseph Israel Laban of One Big Fight Productions from the Philippines. 
It won the third prize of the Locarno Open Doors Development Grant worth 10,000 Swiss francs and received the CNC Development Grant worth 8,000 euros from France's Centre National du Cinéma et de l'image animée or National Centre for Cinematography (CNC).
Eight projects in development were part of Open Doors Hub, including "Don't Cry Butterflies" by Vietnamese Dieu Linh Duong, a Vietnam-Singapore co-production that participated in the 2020 FCL PH. 
Meanwhile, "Holy Emy," the Greek-French-American film by Araceli Lemos on a young Filipina with mysterious healing powers, received the Honorable Mention: First Feature Award from the Concorso Cineasti del Presente. It stars Filipinos Abigael Loma, Hasmine Killip, Ku Aquino, and Angeli Bayani.  
"Big congratulations to our filmmakers who gained accolades as well as to all Filipinos who represented the country well at the prestigious Locarno Film Festival. The FDCP is always here to support and amplify their efforts to showcase Philippine Cinema," said FDCP Chairperson and CEO Liza Diño. 
"This is a beautiful closure to the successful run of Open Doors' Focus on Mongolia and Southeast Asia, which has greatly helped boost the global competitiveness of the new generation of Filipino filmmakers," added Diño.
In the Open Doors Lab, Stelle Laguda of KT House Productions was among the nine selected creative producers while Epicmedia Productions CEO and producer Bianca Balbuena-Liew served as an Open Doors Lab Mentor for the past three years.
There were three Philippine titles in the Open Doors Screenings: "Aswang" by Alyx Ayn Arumpac, "Excuse Me, Miss, Miss, Miss" by Sonny Calvento, and "Next Picture" by Cris Bringas.  
Others members of the Philippine Delegation were 2020 Berlinale Shorts Silver Bear Jury Prize winner and "Filipiñana" director Rafael Manuel in the Locarno Filmmakers Academy and producers Sarah Brakensiek and her project "LETTER TO NANCY," Patti Lapus with "Goliath," and Micah Tadena with "Inherit" in the Match Me! Online Program, with FDCP as a Match Me! Partner.
Completing the roster of Filipino delegates were six producers in Locarno Pro Online: Marvin Lyndon Carmelo Matias of Chimera Visions, Gale Osorio of Binisaya Movement, Inc., Ma. Anna Asuncion-Dagñalan of Eyepoppers Multimedia Services, Anne Prado-Magadia of Atom & Anne Mediaworks Corp., Real Randolph Joseph Florido of Firestarters Studios, and Alex Poblete of Los Ostros.

PH Cinema Day in Locarno
August 9 was PH Cinema Day in Locarno to highlight the participation of the Philippines in one of the oldest and most prestigious film festivals in the world. 
It was the day of the "Kun Maupay Man It Panahon" world premiere as well as the Open Doors Talk featuring Manatad and Cacanindin that was moderated by Locarno and Venice Film Festival Programmer Paolo Bertolin.
Screenings were held featuring 2020 Berlinale Shorts Silver Bear Jury Prize winner "Filipiñana" by Manuel and 2019 International Documentary Film Festival Amsterdam (IDFA) FIPRESCI Prize recipient "Aswang" by Arumpac, who was in the previous day's Open Doors Roundtable entitled "A Checkpoint of Southeast Asia Creativity."
The FDCP culminated not just PH Cinema Day but also the three-year Focus on Mongolia and Southeast Asia by hosting the Locarno Open Doors Closing Dinner @ Philippine Cinema Night at BLU Restaurant & Lounge. 
The event showcased the Filipino projects and delegates in Locarno and provided a platform for Filipinos to meet with international stakeholders in attendance such as the jury members of the Filmmakers of the Present section, the Indonesian Delegation to Locarno, Lao filmmaker Mattie Do, award-winning filmmaker Gaspar Noé, International Film Festival Rotterdam Festival Director Vanja Kaludjercic, and Locarno Artistic Director Giona Nazzaro.
On August 10, the Philippine Embassy in Berne, led by Philippine Ambassador to Switzerland Denis Yap Lepatan, hosted a luncheon for the Philippine Delegation. The Philippine Mission to the United Nations and Philippine Overseas Labor Office represented by Labor Attaché Ms. Cheryl L. Daytec hosted a dinner thereafter. 
The Filipino community in Locarno also showed support for the Philippine Delegation, thanks to the efforts of veteran actress and producer Evelyn Vargas-Knaebel, a Locarno Pro Industry delegate.
Open Doors Locarno was held from August 6 to 10 while the 74th Locarno Film Festival took place from August 4 to14.