FDCP Statement on the Reopening of Cinemas in NCR
While the COVID-19 pandemic forced many establishments to reduce its accessibility, the cinemas were forced to close temporarily. Now, after over a year of being closed, we are happy to announce that - CINEMAS ARE BACK.
The Film Development Council of the Philippines supports this development as we have also been lobbying for the cinemas to reopen. Last August 4, 2021, FDCP officially presented to the IATF its proposal to reopen the cinemas, presenting industry data on the losses of the industry and best practices of how the rest of the world slowly resumed operations of their cinemas through health and safety protocols. The Agency proposed that the reopening could be anchored through the Pista ng Pelikulang Pilipino to premiere Filipino films. More recently, FDCP also had a meeting with Trade and Industry Secretary Ramon Lopez last October 8, 2021 where the Agency highlighted how much impact the closure of cinemas have had not just on cinema workers but film workers as well because producers need the cinemas to be able to screen their films.  With that, we are thankful that they listened to the requests of the cinemas and allowed them to operate again. With the guidelines of the pilot implementation of the government's new COVID-19 alert level system, cinemas and movie houses in areas under Alert Level 3 starting October 16 are allowed to operate at a maximum of 30% indoor capacity for fully vaccinated individuals.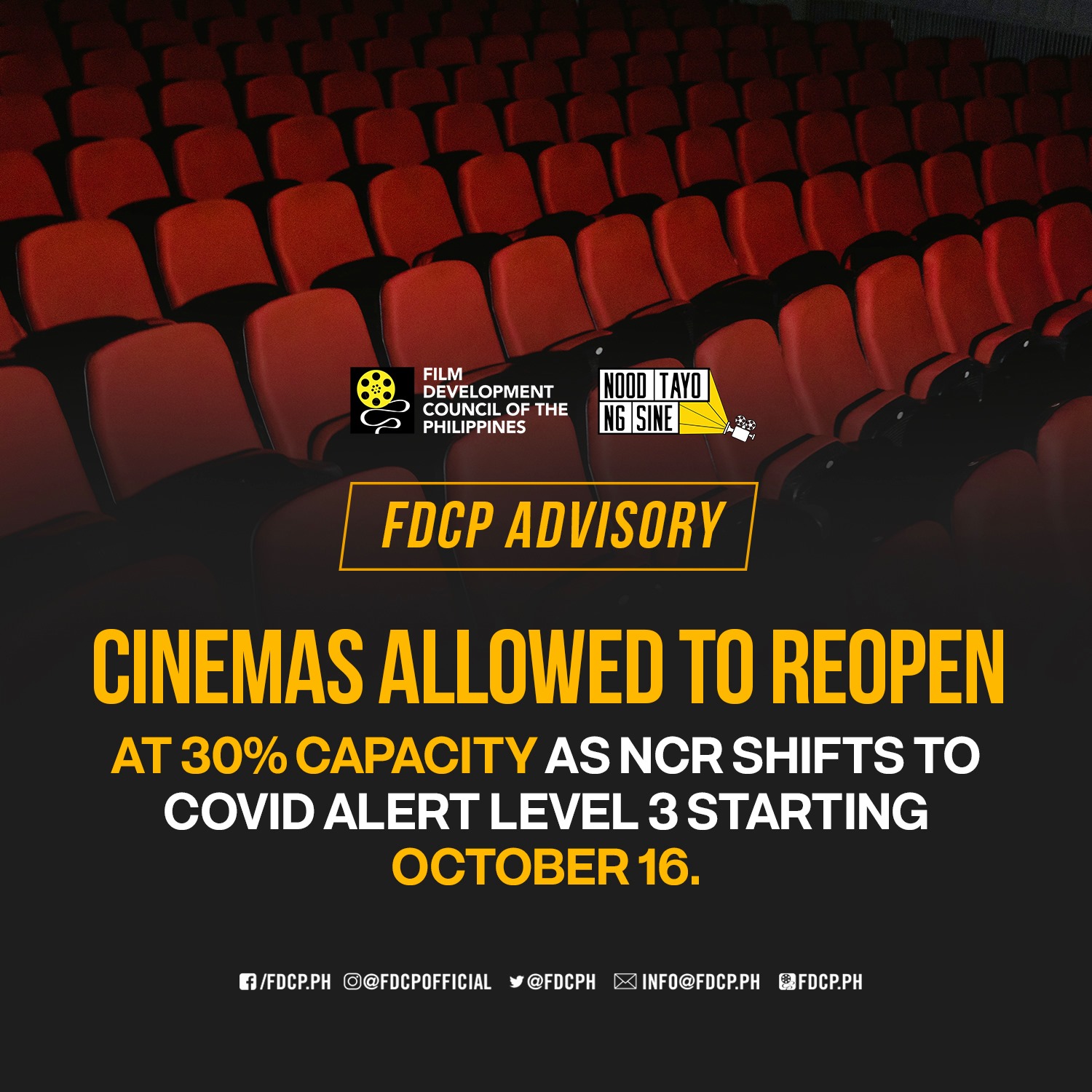 As the cinemas patiently waited for this decision, they have also been preparing to further ensure the safety of the movie-goers through having their personnels fully vaccinated and readying their facilities, and complying with the minimum health standards set by the government. In aid, the FDCP also offered Basic Occupational Safety and Health training to the cinemas through the Safe Filming's Safety and Health Officer Training Seminar (SHOTS) in partnership with the Department of Labor and Employment - Occupational Safety and Health Center (DOLE-OSHC).
To continuously support the cinemas and promote the safety and health of the movie-goers, we are continuing our Nood Tayo ng Sine campaign aiming to encourage the movie-goers to support our local cinemas and at the same time advocate for safe movie watching inside the movie houses. 
Furthermore, the FDCP is currently working and coordinating with the Department of Health (DOH), DTI, and IATF for the set of safety and health protocols for the cinemas. Kindly expect these protocols to be posted on our Nood Tayo ng Sine page. 
The FDCP is truly grateful for the consideration of reopening the cinemas, as though at a limited capacity, this will immensely help not just the livelihood of cinema workers but also the Philippine Film Industry.