FDCP Now Accepting Entries for LGBTQIA+ Film Festival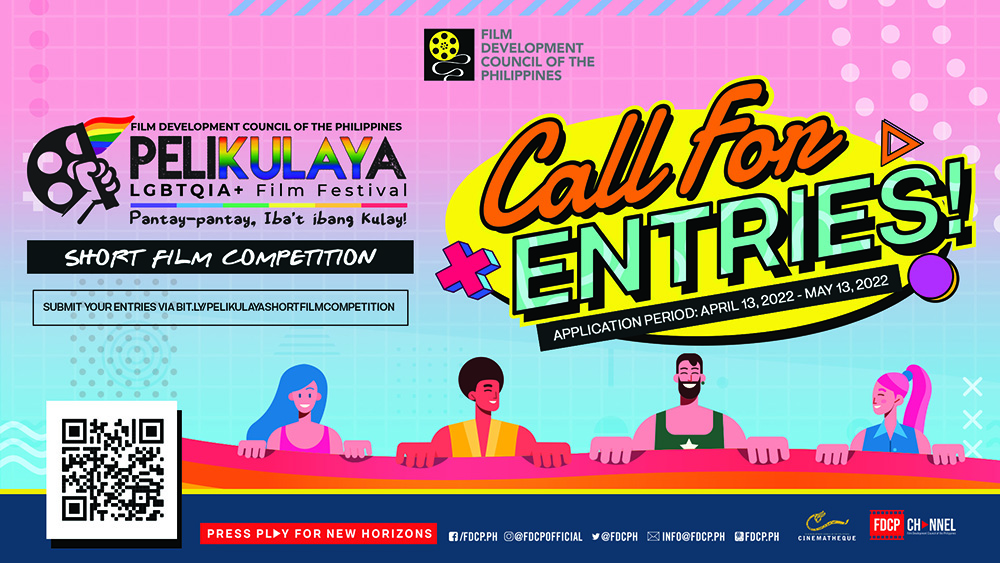 MANILA, PHILIPPINES, APRIL 29, 2022 — In celebration of the upcoming Pride Month this June, the Film Development Council of the Philippines (FDCP) will once again be spearheading the "Pelikulaya: LGBTIA+ Film Festival," on June 10 to 26, 2022 which will be held in hybrid format. The Agency opened its call for entries for the local short film competition last April 13, 2022 and will be accepting entries until May 13, 2022.
Pelikulaya, now in its 2nd consecutive year, aims to champion equality for the members of the LGBTQIA+ community and transcend the notion of acceptance as mere tolerance but as genuine understanding and celebration of diversity.
As one of its featured events, the Pelikulaya LGBTQIA+ Short Film Competition is still accepting submissions of 20-minute short narrative films completed within the last 2 years (January 2020 - May 2022) by Filipino members of the LGBTQIA+ community. 
With this year's theme, "Pantay-pantay, Iba't ibang Kulay!" Pelikulaya endeavors to spotlight the more underrepresented members of the community with a special focus on trans visibility. Interested applicants are encouraged to tackle the less talked about, less understood identities, and experiences within the LGBTQIA+ community to further promotion of equality and acceptance of differences.
The competition will be giving away cash prizes of up to Php 35, 000 for the winners of Best Short Film, Best Director, Audience Choice Award, Special Jury Prize, and Special Mention. 
Ten short films will be selected to be part of the finalists which will be announced on June 2, 2022 and will be showcased at the FDCP Cinematheque Centres from June 10-26, 2022. More details about  the screenings will be unveiled in the coming days.
FDCP Chairperson and CEO, Liza Diño shares, "We have always believed in the power of films and of storytelling in transcending boundaries of gender and biases. Pelikulaya is not just a film festival, it is an effort and a movement towards raising awareness, calling for equality, and a way of showing allegiance to the causes of the LGBTQIA+ community." 
Aside from the Short Film Competition, Pelikulaya 2022 will feature  LGBTQIA+ themed feature film showcases, special opening and closing films, and special Pride  events at FDCP's  Cinematheque   Centres   in   Manila,   Iloilo,   Negros,   Davao,   and Nabunturan; and will also be available online through the FDCP Channel. Tune in to FDCP Channel's Facebook page for upcoming announcements and surprises.
The complete guidelines for Pelikulaya LGBTQIA+ Short Film Competition are as follows:
Submissions must be films completed from January 2020 - May 2022.

Open to all Filipino filmmakers who are members of the LGBTQIA+ community.

The   completed   narrative   short   film   should   depict   narratives   with   the   theme: "Pantay-Pantay, Iba't Ibang Kulay" to celebrate the ongoing movement toward equality, diversity, inclusivity, and visibility for the members of the LGBTQIA+ community. To further advance this cause, we are encouraging participants to submit narratives that feature the underrepresented members of the LGBTQIA+ community— especially those that depict trans visibility in society. Other examples of themes to explore include discrimination in the workplace, same-sex unions, coming out, and characters challenging the stigma associated with the members of the LGBTQIA+ community.

The completed narrative short film should be a live-action or an animated film. Experimental and documentary films will not be accepted.

The completed narrative short film must not exceed the total running time of twenty (20) minutes, including the opening and closing credits.

All music,   graphics,   video  clips,  and  other   proprietary  materials  used  in  the participant's entry must be original and/or have all the proper licenses for use by the participant.

Only entries that have not been featured in other local and international festivals and competitions, and those that have not won in other film competitions, are qualified to join. Films previously featured in school and inter-collegiate competitions may still join.

Selected entries as finalists must not withdraw from the competition.

The   decision   of   the   Selection   Committee   and   Board   of   Jurors   is   final   and irrevocable. The board reserves the right to not give an award in any category should no entry merit it. The organizers and the judging committees are not obliged to provide explanations for the results.

FDCP reserves the right to create, revoke, and modify at any time, in any way, its entry requirements, rules, and regulations at its absolute discretion without prior notice. Finalists and submitted entries shall be bound by any amendments or addition to the entry requirements, rules, and regulations herewith.
Submissions are still being accepted until May 13, 2022. In order to make an official entry to the competition, here are the requirements:
Duly accomplished Entry Form (via Google Forms) Link:

bit.ly/PELIKULAYASHORTFILMCOMPETITION

Brief resume, HD profile photo, and a copy of the government-issued ID of the filmmaker

Director and Producer's statements of intent

Completed film in 1080p MP4 format with English subtitles, and uploaded through downloadable online links. The file size should not exceed 25GB.