FDCP, CHED Hold CineIskool Short Film Lab and Festival Premiere and Awards Night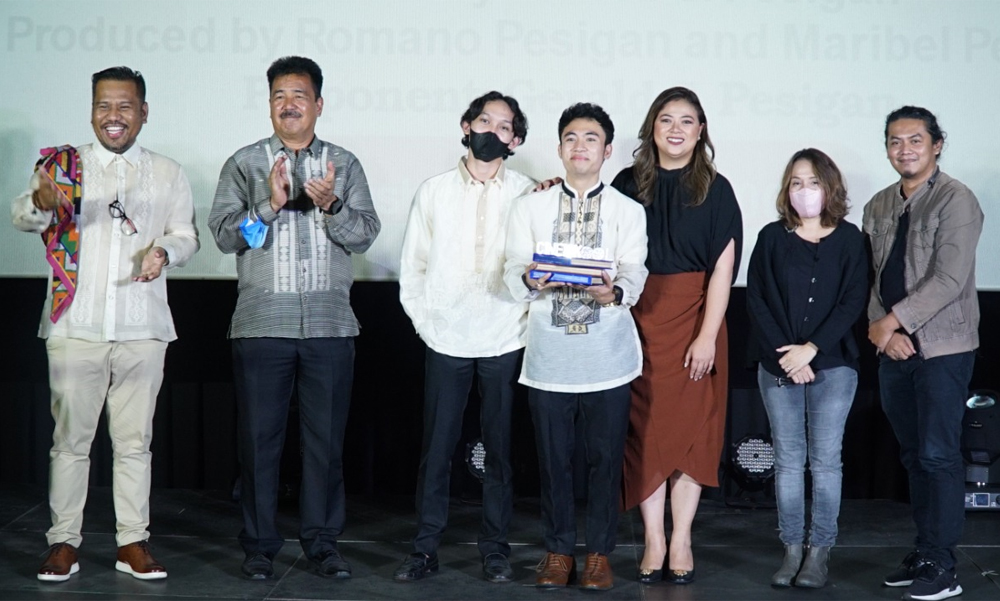 MANILA, PHILIPPINES, JULY 7, 2022 — After holding intensive film labs from story concepts for production and editing, the CineIskool Short Film Lab and Festival premiered the short films of the ten finalists and announced the winners last June 22 in Gateway Cineplex Cinema 1 in Cubao, Quezon City. The event was capped by an awards night ceremony hosted by Alora Sasam and attended by CHED Chairperson J. Prospero De Vera and FDCP Chairperson and CEO Liza Diño.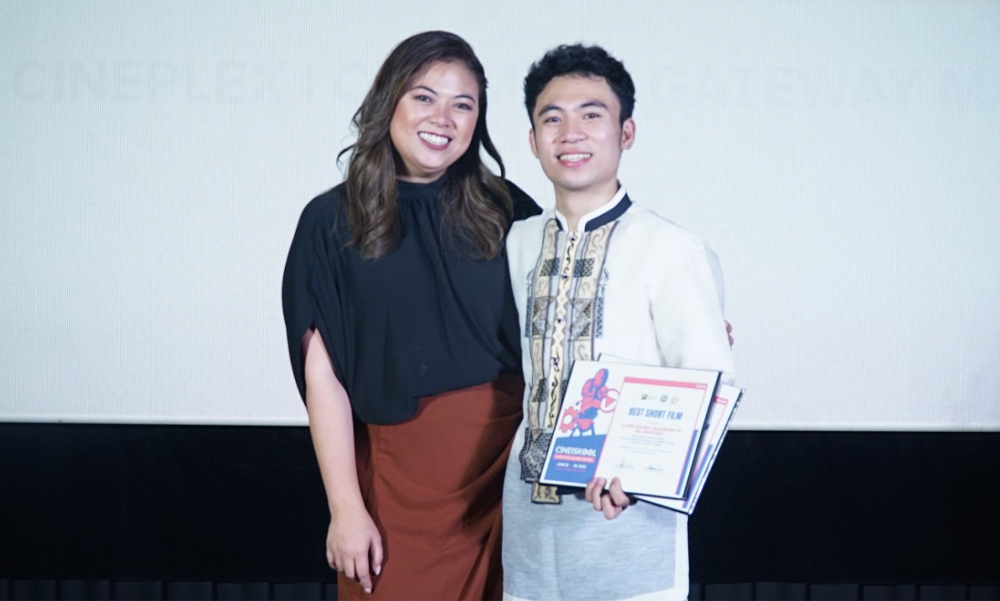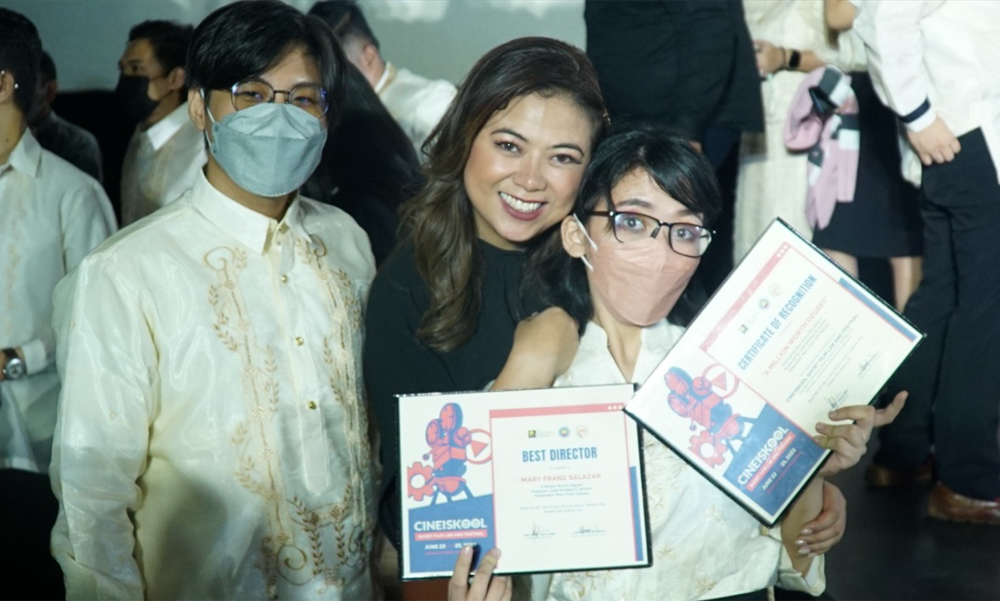 The CineIskool winners are Lapis Akong Naghihintay Ng Pantasa by Gerald Pesigan that bagging the Best Short Film Award with a cash prize worth PHP 50,000; Mary Franz Salazar of A Million Worth Degree for Best Director with an award worth PHP 30,000; Koro Kan Saldang (Chorus of the Sun) by Xavier Axl Roncesvalles for Jury Prize won an award worth PHP 30,000; Higayon (Chance) by John Paul Corton garnered both Best Screenplay and the special Chairman award amounting to PHP 40,000; and Kapawa (Liwanag) by Crisol Bajado and David Mark Oray and Jeremiah 29:11 by Caren Ubat and Jenny Mae Limama secured the Special Mention award with PHP 20,000 each.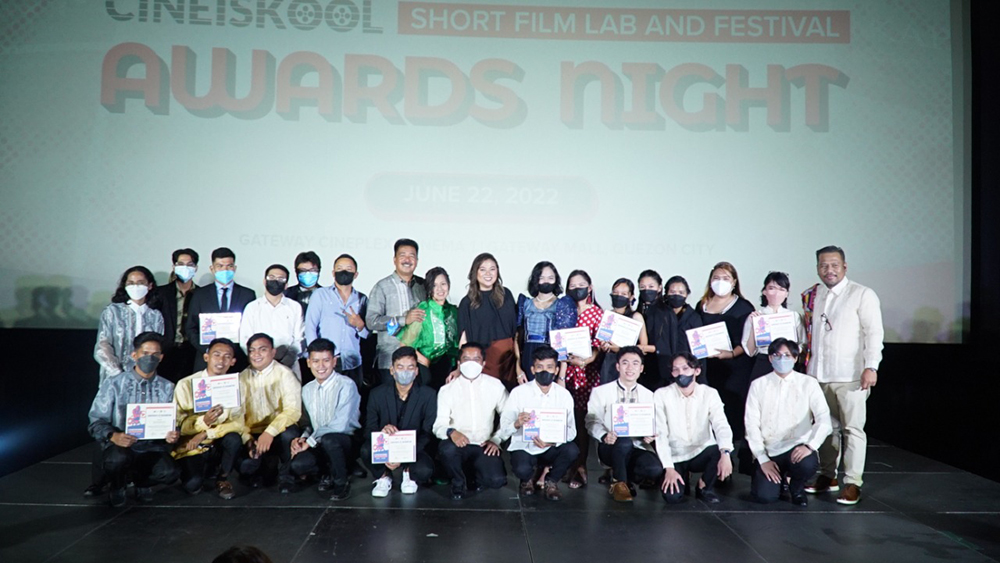 The finalists' short films delved on the challenges Filipino students commonly face in pursuing education such as poverty, and how the main characters of their narratives overcame them.  Pesigan is a student from the University of the Philippines-Los Baños, his film Lapis Akong Naghihintay Ng Pantasa revolves around an out-of-school youth who is welcomed by a choice which can either maintain or improve his life. A Million Worth Degree by Best Director Salazar from Technological University of The Philippines - Manila, is a short documentary film about an underprivileged aspiring artist. Roncesvalle is a student from University of the Philippines - Diliman and his film  Koro Kan Saldang is a semi-autobiographical narrative and documentary that focuses on the ruminations of a college student reflecting on his status of being a Universal Access to Quality Tertiary Education Act beneficiary. 
Higayon by Corton from Visayas State University is about a drop-out college student who returns to college and applies for a scholarship. Kapawa by Bajado from Eastern Samar State University Maydolong tells the story of a student that receives a Tertiary Education Subsidy (TES) scholarship, while Jeremiah 29:11 by Ubat, a student from Davao del Sur State College, revolves around a hard-working female student who realizes that poverty is not a hindrance to finish her studies.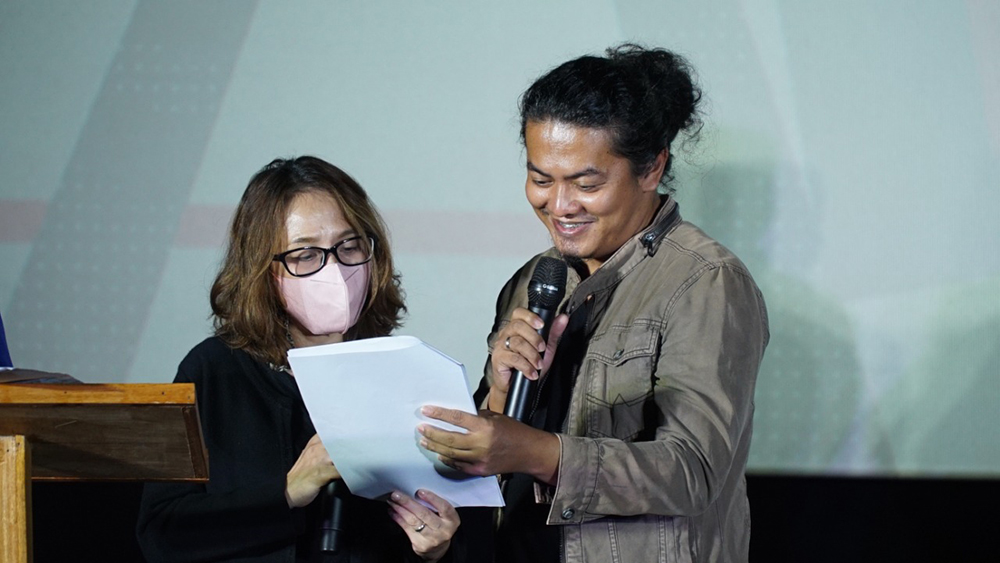 The rest of the finalists received a consolation prize worth PHP 5,000 each. The winners were awarded by CHED Chairperson De Vera, CHED UniFast Executive Director Estevez, FDCP Chairperson and CEO Diño, and filmmakers Arjanmar Rebeta and Sari Dalena. 
Also present in the event were FDCP Executive Director Ria Anne Rubia, CHED and UniFast Board Chairman J. Prospero "Popoy" E. De Vera III, CHED Executive Director Cinderella Filipina Benitez-Jaro, UniFAST Officer-in-Charge Executive Director Atty. Ryan L. Estevez,  UniFAST Head for Advocacy, Promotions and Career Guidance Precila A. Chan, and the CineIskool finalists with their families and friends.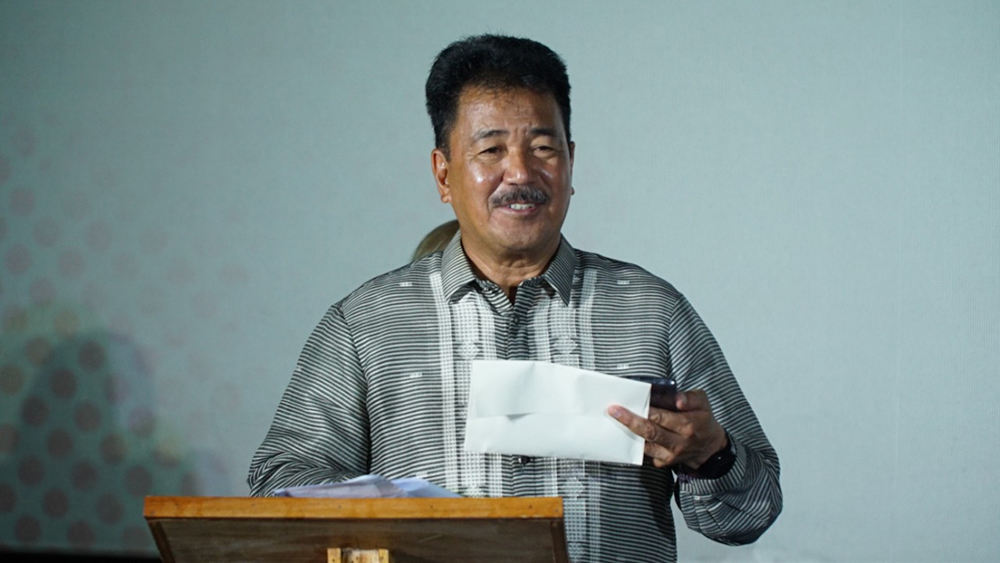 CHED Chairperson De Vera briefly shared the story how the project came into fruition in his speech, "Problema namin ni Liza noon, 'paano ka magte-train ng mga kabataan e panahon ng COVID?' Hindi ko ma-imagine noon kung paanong 'yung magagaling na natin na direktor ay tuturuan sila na online, parang ang hirap i-visualize. Pero syempre, magaling ang FDCP, 'yung hindi ko maisip na magawa eh nagawa, at ngayong gabing ito, nakikita natin na talagang tagumpay ang collaboration ng CHED-UNIFAST at FDCP." 
"Ang aking mensahe lang, sana hindi ito ang una't huling pag-kwento natin ng tagumpay ng TES. Pinag-uusapan namin ni Liza, anong pwedeng susunod na gawin? So pag-isipan natin kung anong susunod, paano natin mapapalawak dahil dapat palaki nang palaki yung kwento natin, padami nang padami. 1.9 million na Pilipino na ngayon ang hindi nagbabayad ng tuition at miscellaneous fees sa lagpas dalawang daang pampublikong pamantasan. So marami-rami pa po ang magkukwento," De Vera added.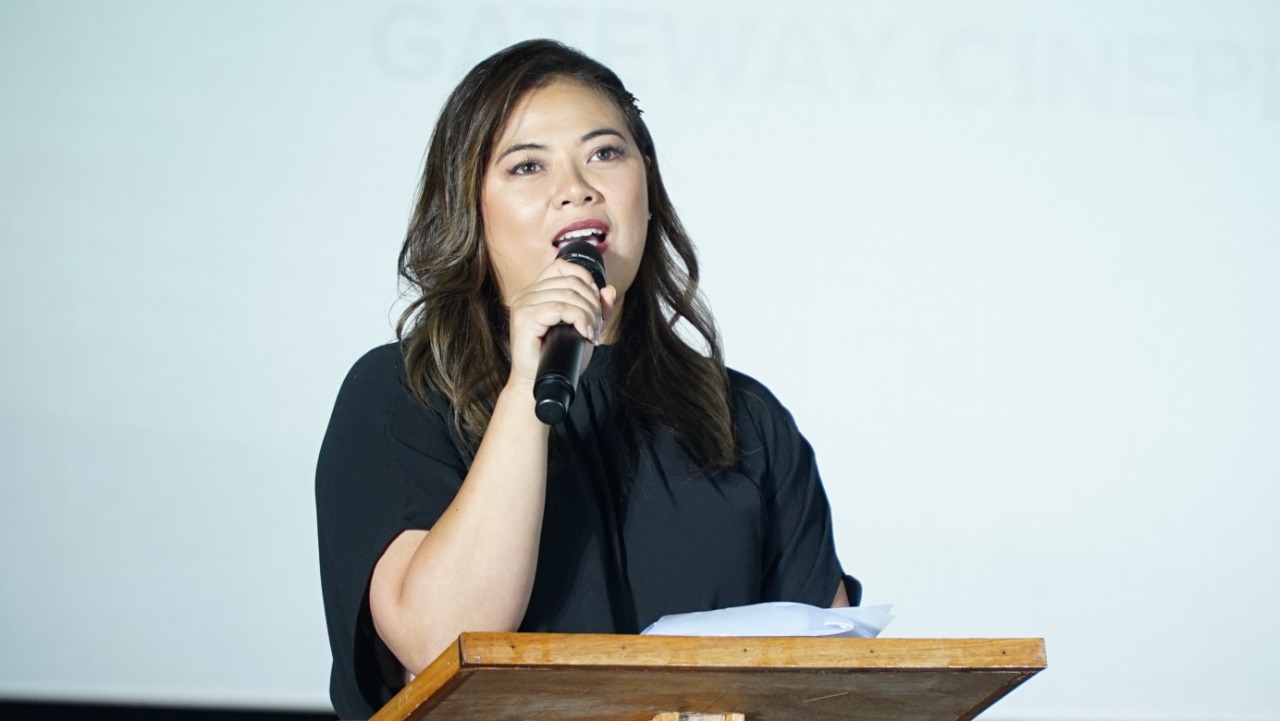 FDCP Chairperson and CEO Diño, who was overwhelmed and immensely proud with the output of the CineIskool finalists, congratulated the participants and the whole team behind CineIskool in her closing remarks: "Your months of hard work have earned praise and respect tonight from our distinguished jury and we hope that this milestone will serve you to further pursue filmmaking. It is truly humbling and touching for me, personally, of course to our team, to see your growth from youngsters with story concepts to now, officially, I would say as filmmakers with your CineIskool films. That's a feat."
"And finally, my personal most profound gratitude goes to Chair Popoy, I give all the credit to you, Chair. Maraming maraming salamat po sa vision ninyo, sa inyong puso, at sa inyong intention na lumawak pa, lumawig pa, ang mga pwedeng makapag-benefit sa free tertiary education. Isang inisyatibo ng gobyerno na hindi alam ng lahat kung paano nabibigyan ng pag-asa ang ating mga kabataan," she added.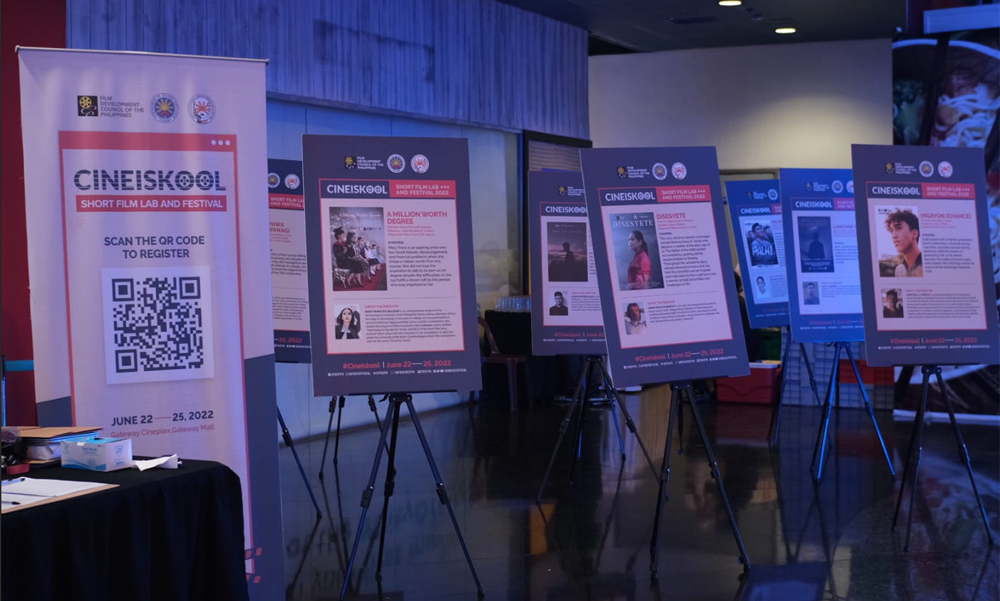 Organized by the Film Development Council of the Philippines (FDCP) and the Commission on Higher Education-Unified Student Financial System for Tertiary Education (CHED-UniFAST), CineIskool Short Film Lab and Festival is a short film competition that aims to produce and exhibit films with diverse stories that highlights the significance and benefit of tertiary education to encourage the youth to take advantage of the different education assistance programs by the government. 
The ten CineIskool finalists were given a PHP 125,000 grant to produce their films and have undergone online intensive film labs on production management, story development, technical, safe filming, and editing, mentored by award-winning filmmakers and producers in the industry. 
After the premiere and awarding ceremony, the CineIskool short films had its free screenings at the Gateway Cineplex Cinema 1 last June 23 and June 25. The films were screened alongside the Healthy Pilipinas Short Film Festival and PeliKULAYa LGBTQIA+ Short Film Competition short films. 
The Official List of Winners of the CineIskool Short Film Lab and Festival: 
Lapis Akong Naghihintay Ng Pantasa by Gerald Pesigan
A Million Worth Degree by Mary Franz Salazar
Koro Kan Saldang (Chorus of the Sun) by Xavier Axl Roncesvalles
Higayon (Chance) by John Paul Corton
Kapawa (Liwanag) by Crisol Bajado and David Mark Oray
Jeremiah 29:11 by Caren Ubat and Jenny Mae Limama 
Higayon (Chance) by John Paul Corton