5 Filipino Producers Selected for Berlin Co-Production Market Online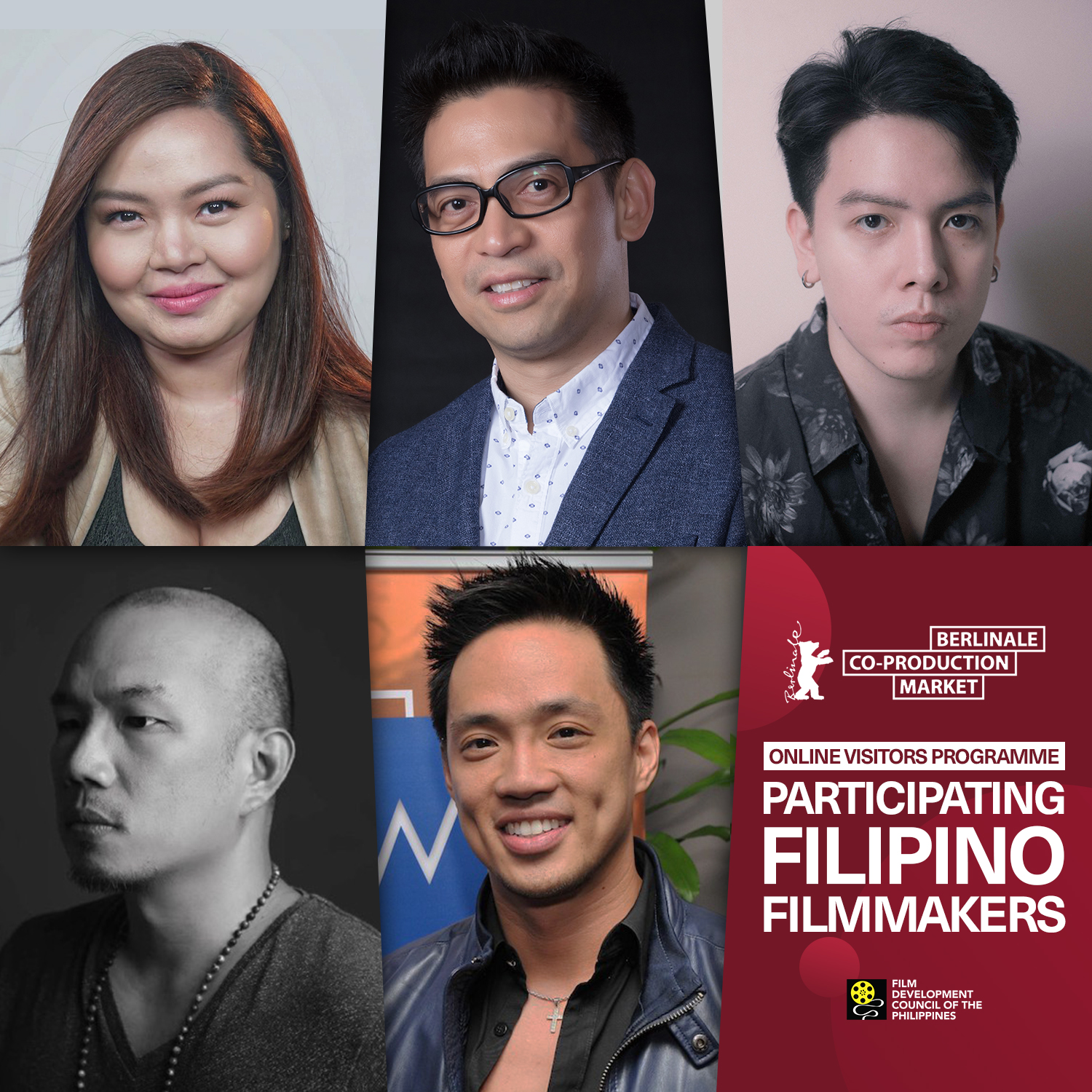 MANILA, PHILIPPINES, FEBRUARY 2, 2022 — Five producers with projects in development who are aiming for international co-production and partnerships have been selected by the Film Development Council of the Philippines (FDCP) to participate in the online Visitors Programme of the 19thBerlinale Co-Production Market (BCM) at the 72nd Berlin International Film Festival in Germany on February 12 to 16, 2022.
The country's representatives to the Visitors Programme are Danzen Santos Katanyag of Digital Dreams Inc., Wilfredo Manalang of FUSEE Media, Kyle Nieva of Screen Asia Corporation, Paul Sta. Ana of Project 8 corner San Joaquin Projects, and John Paul Su of Eight Horses Productions, Inc.
For this year's online Visitors Programme, the five Filipino filmmakers will have access to BCM's Visitors Meet and Match, Visitors Consultation Corner, Theme Talks, Speed Matchings, Books at Berlinale, and Country Sessions. The participants will also receive a European Film Market (EFM) Badge to access EFM's Industry Sessions and an additional online meeting space. 
Representing the Philippines for the BCM Country Session on February 13, the FDCP will share its FilmPhilippines Incentives Program composed of the Film Location Engagement Desk (FLEX), Film Location Incentive Program (FLIP), International Co-production Fund (ICOF), and ASEAN Co-production Fund (ACOF). 
FDCP issued a Call for Applications last December 2021 and selected the official participants for this year's Visitors Programme. Part of the FDCP's goals under its project and talent development programs is to expose Filipino producers to international markets and networking platforms such as the BCM. This is the Agency's third year of participating at the event. 
"We are grateful that more Filipino filmmakers have expressed interest in seeking international co-productions for their projects. Attending the Visitors Programme of the Berlinale Co-Production Market will surely be a source of  invaluable experience for those who want to know more about the international film market and expand their international network," said FDCP Chairperson and CEO Liza Diño.
Katanyag for Deadboy, is a part-time lecturer at De La Salle University - Manila and CEO and executive producer of Digital Dreams Inc. She co-wrote Japan Prize recipient Kablog, and US Film and TV Festival Creative awardee Proudly Filipina, Alamat, and Wagas, among other television shows. She co-produced the films Magdalola and the Fools by Jules Katanyag and Dog Days by Timmy Harn, that both bagged the Jury Prize in the Cinemaone Originals Film Festival. Dog Days was also awarded with the NETPAC Jury Prize award at the QCinema International Film Festival in 2018.
Manalang with his project The Hidden Gorge, is founder and managing director of media production company FUSEE, a board member and secretariat for the Directors' Guild of the Philippines, and a member of the Creative Content Creators Association of the Philippines. His directorial works for television shows Ipaglaban Mo and Maalaala Mo Kaya won awards in 2019. He also served as the managing director and producer for ABS-CBN Corporation's International Production and Co-Production American-Filipino television series Almost Paradise. 
Nieva for Yellowfin, is the co-founder of Screen Asia Corporation and director of short film Kids on Fire, which was awarded Best Direction and Best Screenplay at the Cinemalaya 2021 and the Special Jury Award for World Building at the 37th Los Angeles Asian Pacific Film Festival. He also produced Rafael Manuel's Filipiñana, which won the Silver Bear at the 70th Berlinale and bagged several other awards globally. 
Sta. Ana for Killing Time in Manila Traffic, is a screenwriter whose works include Dan Villegas' Mayohan and Walang Forever, and Jeffrey Jeturian's Bisperas. His film Oros (for which he was also the screenwriter) opened the Asiatica Film Festival in Rome, Italy in 2012, while Balut Country was exhibited at the 2015 Tokyo International Film Festival. He has also directed several television series and mini-series for GMA Television Network, Inc. namely, Wagas, Stepdaughters, Dragon Lady, Never Say Goodbye, and Love On-Air. 
Lastly, Su is a Filipino Chinese American filmmaker and founder of the Eight Horses Productions Inc. His current narrative feature project "Captain C!" has participated and was a finalist in various screenwriting competitions. Some of his works as a director are short film Pagpag (The Refuse) and advocacy piece Smell A Memory, with the latter being a Cannes Lions Silver Ad Star awardee. His debut feature film Toto won the Jerome Foundation Artist Fellowship grant and earned accolades both in the Philippines and in the international film festival circuit. 
The 19th BCM will take place on February 11 to 16, 2022 while the 72nd Berlin International Film Festival will be on February 10 to 22, 2022.